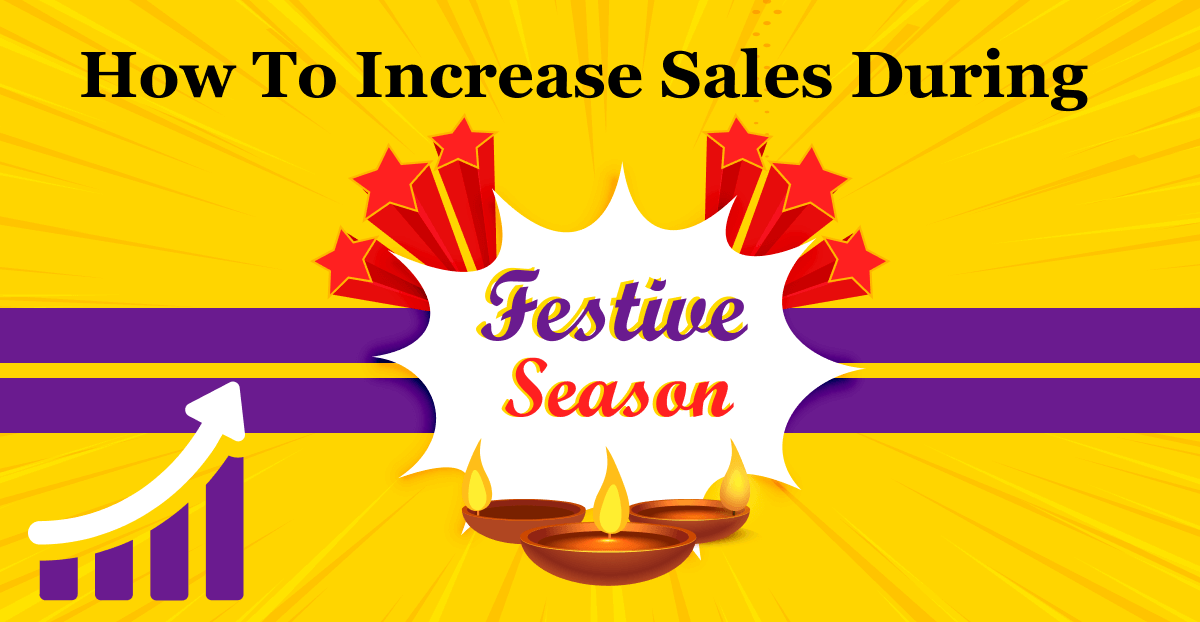 How To Increase Sales During Festive Season 
The most eagerly awaited festival of the year, Diwali, is here and the preparations for it are in full swing. Businesses and consumers alike are gearing up for the festivities and these festivals are a great time for any business. 
This is because the consumers get into a 'buying mode' before the festivities begin while businesses and brands on the other hand start updating their marketing strategies to increase their sales during the festive season. The festivals provide businesses with an opportunity to increase profit margins, as it has been observed that people prefer to shop during auspicious festivals such as Diwali.
With all the brands, organisations and businesses geared up for the festive season,  the question that bothers most of these business owners is how to increase sales during this festive season.
How To Increase Sales During Festive Season 
There are certain pointers that business owners can keep in mind when learning how to increase sales during the festive season. A few of them are discussed here-
Prepare Their Inventory

Offer Discounts

Be On Social Media Effectively

Provide Great User Experience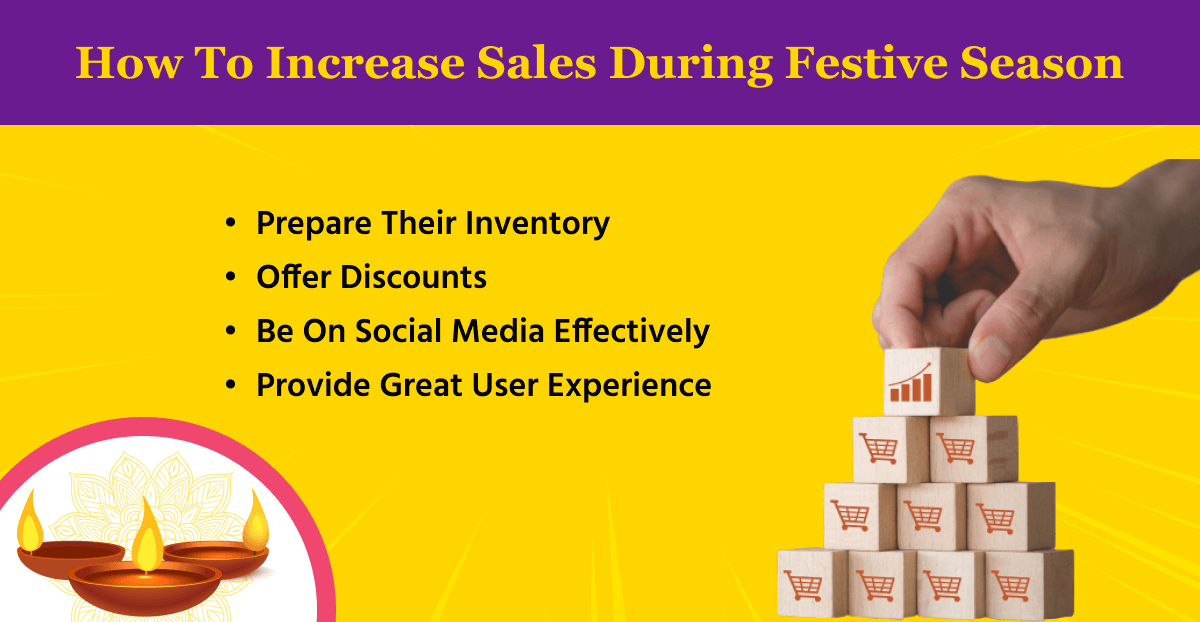 One of the foremost steps that businesses can take when learning how to increase sales during the festive season is to prepare their inventory in advance and stock up on their goods well in advance. Festive season translates into greater purchasing activity and greater sales means a spike in the requirement for stock. Entrepreneurs must therefore contact their suppliers beforehand and check for the availability of the products that are likely to be in demand during the festive season and prepare their inventory accordingly. Along with the inventory, entrepreneurs must also stock up on packaging material for the goods and keep their stores organised in preparation for the festive season. A well-stocked and neatly organised store is definitely the best solution to increase sales during Diwali and the festival season.
Offer Attractive Discounts 
Diwali or festivals, in general, are synonymous with sales and discounts being offered by most businesses. Consumers are always on the lookout for attractive offers and discounts while making their purchases, especially during the festive season when they make most of their purchases. By offering attractive discounts small business owners can use the highly tried and tested tip of how to increase sales during the festive season. It could either be a discount on selected items and/or services or a discount coupon on purchases over a certain limit or a buy one get one (BOGO) offer or a flat sale on all the products or free shipping anywhere in the country or any other attractive promotional offer or discount keeping the festival season in mind.
Entrepreneurs must strategically plan offers and discounts beforehand. They must decide the products or services that they will offer on discount and the type of offers too. 
Entrepreneurs can also build momentum by having a countdown through social media posts, right to the day when the sale or offer begins. 
Use Social Media Effectively 
The power of digital media as a marketing tool has been witnessed by all business owners during the pandemic and the subsequent lockdown. Businesses that have an online presence have seen a boost in their sales. In fact, figures reveal that the Indian e-commerce GMV (Gross Merchandise Value) was recorded at US$ 8.3 billion (IBEF data) in 2020, which is a tremendous growth of 66% in comparison to the previous year. 
Businesses can use the power of social media to answer their queries regarding how to increase sales during the festive season. Many business owners might argue that having a website should suffice but how will the consumers be aware of it? Having a presence on social media platforms helps businesses reach several people.
However, merely having a presence on several social network platforms will not be enough. Entrepreneurs need to create relevant content to engage with the audience and also post aesthetic pictures, engaging videos and relevant information regarding their products or services. Entrepreneurs can even run Diwali-themed contests to engage customers and connect with them. 
A Social Media Management service such as that offered by deAsra will help entrepreneurs learn how to increase sales by being active on social media and how to schedule and post relevant content on these platforms.

Provide Great User Experience
Another sure shot formula on how to increase sales during the festival season is to ensure that the consumers are provided with a great experience while shopping with the business. This includes several factors, the primary being ensuring that the customer has a great and smooth experience shopping or interacting with the business. The interaction must be prompt, polite and courteous.
In the case of a physical store, the entrepreneur can have an assistant greet the consumer at the entry, ask politely about their need and guide them to or provide the requested service or product accordingly. The assistant must patiently attend to the consumers, show or tell about all the products or services available and assist the consumer promptly, right till their purchase and after-sales service as well.
For an online store, entrepreneurs can interact with the customers through WhatsApp Business or a messenger service, enquiring about the customer's needs and assisting them at every point right till check out.
A smooth checkout is a pleasurable experience for the consumers and the entrepreneurs must ensure that the checkout is as hassle-free and smooth as possible. This includes an easy and effortless payment process with a glitch-free payment gateway with multiple safe and secure payment options provided to the consumers. Along with these, the after-sales service must also be prompt and efficient. These factors ensure a great user experience, which will help consumers be satisfied and return repeatedly to the store and also recommend it to others.
Apart from these tips on how to improve sales during the festival season,  entrepreneurs can also consider-
Creating a user-friendly website 

Expanding the product range

Decorating the storefront 

Sending emails with festival greetings and promoting offers

Offering a free gift on purchases
All these preparations to improve and increase sales might require additional funds. Entrepreneurs can apply for funding but will require a thorough funding proposal. Instead of trying to make a detailed proposal themselves, entrepreneurs can avail funding proposal creation service to help them apply for funding to prepare for the festival season.

These are some of the ways entrepreneurs can apply when considering how to improve sales during the festival season. For more tips and guidance on how to increase sales and promote the business during the festival season, entrepreneurs can contact the experts at deAsra for guidance and assistance.