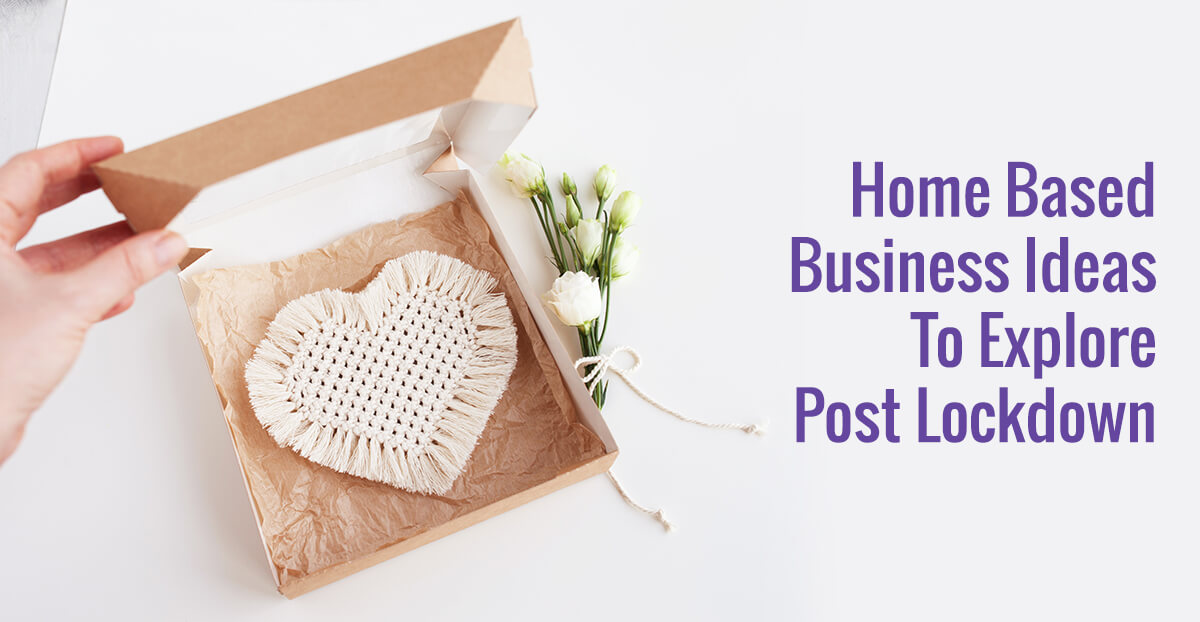 Home-Based Business Ideas To Explore Post Lockdown
The Covid-19 pandemic and the subsequent lockdowns have had devastating effects, not only on the lives of people but also on their livelihoods. Several individuals have lost their jobs and many entrepreneurs are out of business. Every industry and business domain has seen a fall in their sales and revenue even as the country's GDP growth fell to 4.7% in the third quarter of 2020.
But as they say 'there is light at the end of the tunnel', so the present situation too will improve soon as businesses and the economy will pick up pace slowly but surely.
On that optimistic note, we at deASra have compiled a list of home-based business ideas that can be considered and explored by individuals and entrepreneurs, especially women, who are looking to make a fresh start and want to consider home-based business ideas post the lockdown.
The majority of these profitable business ideas can be started on a minuscule budget and are popular businesses that can provide steady income to the business owners. So, let's consider some home-based business ideas to explore post lockdown-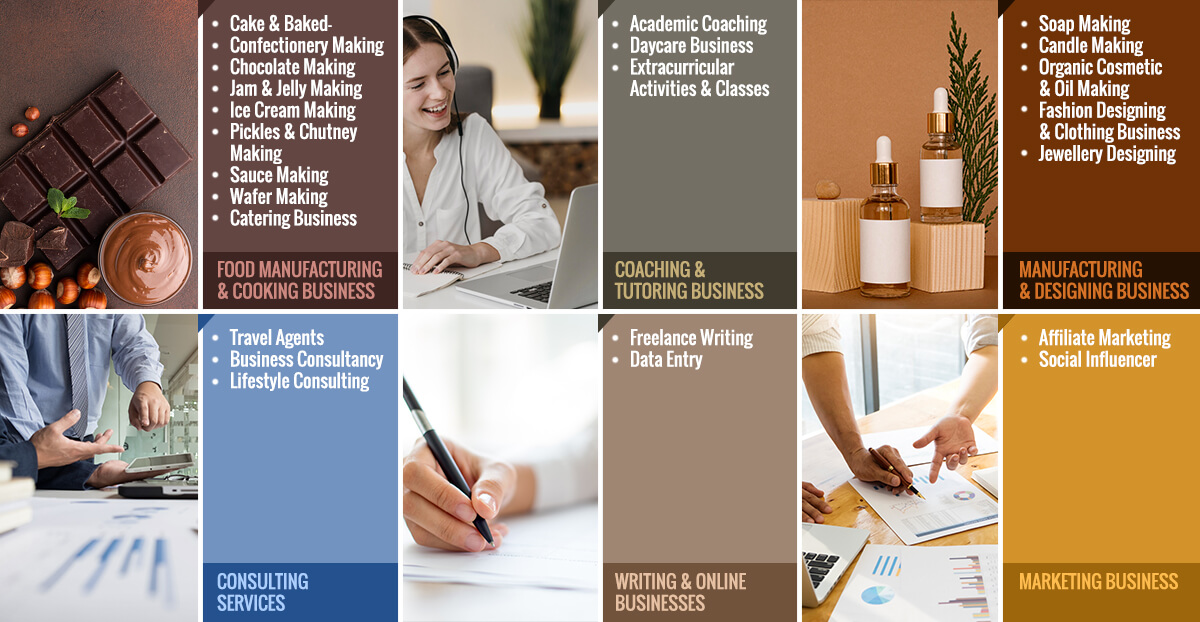 Cooking And Food Manufacturing Business
There are several home-based business ideas involving food manufacturing and catering. Some of the popular food businesses that can be started from home with minimum investment and are highly rewarding include-
Cake And Baked-Confectionery Making

No celebration is complete without cake and there is always a demand for cakes, cookies, brownies, cheesecakes, bread, croissants, and a variety of baked goodies. This is a great idea for entrepreneurs who are passionate about baking and can whip up delicious baked goodies. 

The skills required include a passion for baking and some basic equipment such as an oven, mixing bowls, stirring spoons and spatulas, baking trays and moulds for cakes, loaves, etc, whipping machine, blender, stovetop or gas and a refrigerator. Most of this equipment is already present in the house.

A home baker business requires an investment ranging from 2000 to 20,000 chiefly for equipment like an oven. 

Chocolate Making

Being a chocolatier is a

profitable business idea

in the small food manufacturing sector.

The

chocolate-making business is a one-person business and requires knowing the basic processes of heating, moulding and freezing to make chocolates.

The primary equipment needed is a gas stove, refrigerator, utensils like pots and kettles, moulds, and wax paper while operating from home, all of which will require a maximum investment of Rs 5000-7000.

Jam And Jelly Making

Jam is a thick mixture of fruit, pectin, and sugar which is boiled until the fruit is soft but thick enough that it spreads easily. This business can be started at home, within 250-500 square foot of area.

For a small-scale production process-oriented unit, the equipment required includes a pulper, juice extractor, mixer and grinder, slicer, bottles, and cap sealing machine.

Ice Cream Making

Ice cream making is a popular and evergreen

profitable business idea

that can be started from home by entrepreneurs experimenting with unique and exotic ice cream flavours. 

Ice cream making requires spade spoons, a blowtorch, a refrigerator, an ice cream machine, and a sieve when working out of the home kitchen.

Pickles And Chutney Making

Pickles are a staple in most Indian households and their manufacturing is a great example of

small business startup ideas

. 

A variety of

pickles and chutneys can be easily made at home requiring the most basic kitchen equipment like a mixer-grinder or a mortar-pestle.

The raw materials and ingredients for making pickles are cheap and hence, a lot of capital or special equipment is not needed to start the business.

Sauce Making

Sauce manufacturing, like tomato ketchup, mustard sauce, sweet chilli sauce, pizza-pasta sauce, pesto sauce, etc. is another popular food business idea that can earn good profits while being based out of the home kitchen.

The equipment needed includes a pulping machine, a steam jacketed kettle, a spice grinding machine, and a hand-operated label gumming machine.

Wafer Making

A favourite snack around the globe, several flavoured wafers such as potato wafers, raw and sweet banana wafers, tapioca wafers and many others can be made at home and sold profitably.

A wafer making business requires a gas stove, a fryer, and a good quality slicer while manufacturing from home which does not need a lot of investment. 

Juice And Smoothie Powder Manufacturing

With the heightened awareness regarding health and fitness, a fresh juice and smoothie powder business is bound to rise in popularity and profits. 

Entrepreneurs can pick from making fresh ready juices or juice concentrates as well as smoothie powders which are great healthy and quick breakfast options.

This business requires a good quality juicer, food processor/blender and other basic equipment like knives, peelers, cutting boards, strainers, spoons, saucepan, bottles cleaning and capping machine, etc all of which will require a maximum investment of Rs 20,000.

Cooking Classes 

Apart from food manufacturing

business ideas

as discussed above, entrepreneurs can consider conducting cooking classes for special cuisine, whether regional or international or even for specific courses such as appetisers or desserts or main courses. This business does not require any investment and can be started from home.

Catering Business

The catering business was always popular but post the pandemic induced lockdown several families are opting for meals cooked by home chefs thus significantly increasing the popularity and growth potential of catering businesses operating from home. Entrepreneurs can gather further information regarding starting the catering business post lockdown, via this detailed

blog

.

An essential pointer to consider while starting a food and food-related business is to

procure an FSSAI licence

which is necessary to operate the business.

Coaching And Tutoring Business
The next home-based business category that can be explored post lockdown with minimal investment and from the comforts of one's safe space is the coaching business. Several coaching classes can be conducted and now with social distancing norms in place, most of them are conducted online via platforms such as Zoom, Google Meet, Teams, etc.
Academic Coaching

This type of coaching could be a wellness coaching program, or a financial coaching lesson or even tutorials for school students or college graduates, or even lessons on how to start an online business, various fields can be taught from a distance. 

Entrepreneurs can start the business from their own homes, provided they have the required knowledge and skill to coach others. 

Online academic coaching can be provided via videos, blogs or subscription-based websites, and primarily requires investment in terms of having a digital presence and reaching out to those requiring coaching. 

With the paucity of time and convenience of accessible internet, several people seeking coaching and guidance can benefit from this online business idea, and the entrepreneur can cash in on the rising demand for online coaching.

Day Care Business

Another business revolving around teaching involves a daycare business where entrepreneurs who enjoy the company of children can take care of toddlers and infants within their homes themselves.

The daycare business requires a low investment, minimal educational qualification, and is a financially as well as emotionally rewarding opportunity.

The business requires investing in toys, books and educational and recreational activities to teach the kids and keep them occupied. Further requirements for starting the business can be known here.

(

https://docs.google.com/document/d/16hGb86_bkr6wvmtMgr7u75vIoPaurDLz34r-Wf2kCBQ/edit

)

Extracurricular Activities And Classes

Another business idea related to coaching and teaching is that of extracurricular activities such as teaching singing, drawing, art and craft, or a musical instrument or even physical activities such as yoga, dance, karate, etc.

Most of these activities can be taught online in these Covid-19 times as an increasing number of parents are looking for online activities and extracurricular classes to engage their children.

These business ideas require minimal investment along with relative knowledge and passion for teaching the activities to succeed.
Manufacturing And Designing Business
Many manufacturing business ideas can be started at home and do not require heavy investment too. Some of them include-
Soap Making

Organic soaps and ubtans have found a renewed popularity and demand as an increasing number of individuals are making the shift to using natural and handmade products. 

Soap making is a popular

home-based business

 idea that requires basic knowledge of soap making. 

The material requirements for the business include lye, oils (such as castor oil or olive oil), fragrances, water and the rest of the ingredients depend on the type of soap to be made, whether milk-based or cream-based or glycerine based or water-based soap. The other ingredients depend on the fragrance and type of soap whether it is charcoal soap or rose petals soap or lavender soap or any other variety.

Some special ingredients like charcoal, rose petals, Haldi Chandan, Aloe vera, mint, etc are used depending on the type and fragrance of the soap. 

The equipment required for the business is very basic and includes stainless steel pots, boilers, ladles, spatulas, mixing bowls, soap moulds and other miscellaneous items. A thorough description of how to start the soap making business can be found

here

. 

Candle Making

Another

home-based business

idea that can be explored on a limited budget is the candle making business. Candles add an aesthetic element to decor, have calming properties and are fast gaining popularity as decor and gifting options too.  

The requirements for the candle making business are- wax, wicks, containers, fragrance, colour, skewers or popsicle sticks, moulds, pots, thermometer and a hot plate or electric stove which do not require a heavy investment.

Along with the knowledge to make candles, the required registrations for the business can be a Shop Act if the business fulfils the eligibility criteria which can be determined via the

Shop Act checklist

.

Organic Cosmetic And Oil Making

Organic beauty products are gaining popularity as a growing number of individuals are seeking clean products for their skin and body. Add to that the inability to go to salons during lockdown which contributes to rising demand for these products.

Organic beauty products can range from face masks and clays to lotions, serums, and oils to even lip colours and balms to hair oils and masks. A basic understanding of the ingredients and their effects on the skin is needed to start the business.

The material required for the manufacturing process of organic products include naturally sourced oils, flowers, twigs, gels, etc. The business can be started with a small budget too, with rewarding returns.

Fashion Designing And Clothing Business

Another manufacturing business idea that can be explored for those who are interested in fashion and have great sewing and tailoring skills in fashion designing and manufacturing garments.

There is always going to be a demand for all things fashion and clothing and this

profitable business idea

can cash in on that demand. Entrepreneurs can consider taking custom tailoring orders such as stitching formal and informal wear, salwar-suits, lehengas, western wear like dresses, skirts, tops, co-ord sets,  kids clothing, men's kurta-pyjamas, etc. The options are endless and entrepreneurs need to choose a niche market to succeed in.

Tailoring business will require a sewing machine, threads, needles, buttons, hooks, beads and other miscellaneous materials required for designing clothes.

Alternatively, entrepreneurs can create their signature clothing like quirky, graphic art t-shirts, masks and personalised apparel which can then be marketed via digital mediums.

Jewellery Designing

Jewellery occupies a coveted spot in the heart of most women and is always a sought after purchase. Entrepreneurs can consider jewellery making as a profitable

home-based business

opportunity.

Different types of jewellery can be made at home such as oxidised metal jewellery, pearl jewellery,  bead jewellery, quilling jewellery, terracotta jewellery, etc. The material requirement varies depending on the type of jewellery and can be easily obtained in craft stores.

Entrepreneurs need to be creative and passionate about jewellery making to make a headstart in this lucrative business.

This

guide to starting a jewellery business online will further help bring the plan to fruition.
Other business ideas that entrepreneurs can consider in this field include handicrafts and artefacts such as torans, vases, paintings, sketches and many more given the creativity and skills of the entrepreneur. 
The basic legal compliances to follow for these businesses is to procure a Shop Act licence, GST registration (if needed) and business entity registration.
Consulting Services
Aspiring entrepreneurs can also consider starting a career in the consulting domain and a few of these profitable business ideas are discussed here-
Travel Agents

Aspirants who have a keen liking for travel and are knowledgeable about the various destinations within the country and abroad and can meticulously plan a travel itinerary for others can consider a travel agency business.

This business requires minimal investment but requires knowledge as well as a certification from bodies such as IATA to be recognised as a qualified travel agent.

In terms of requirements, a travel agency only requires a computer and internet connection and the expertise to find great travel deals along with guiding tourists on their travels.

Business Consulting

If an entrepreneur has years of experience in a particular business field or of the industry in general or of entrepreneurship, the knowledge can be put to good use post lockdown by starting a consulting service to help other business owners. It could be financial consulting or related to legal matters or pertaining to employment issues or specific to the type of business.

The requirements for this business idea includes a business savvy aptitude to help communicate with other businesses.

Lifestyle Consulting

A lifestyle consultant is a broad term to include dieticians, stylists, life coaches who help improve the overall fitness, style and appearance, relationships, and mindset of individuals through their consulting services.

The chief requirement for this business is the requisite knowledge in the particular area to help clients improve and upgrade their life. 

These consultations can easily be conducted from home through online channels, either via one-to-one sessions or group sessions and do not require any investment per se. 
Writing And Online Businesses
In this digital age, there are a number of online and digital business ideas that can be explored by aspiring entrepreneurs post lockdown. Some of the home-based business options in the online, writing domain include-
Freelance Writing

This includes writing assignments for various purposes and primarily consists of content and creative writing.

The word 'content writing' encompasses the entire process of planning, researching, writing and editing digital content such as blogs, news articles, social media posts, e-books, the script for audio, video and e-learning articles, etc. 

To start content writing all that is needed is a laptop/PC and the ability to research and aesthetically put into words what the clients want to convey. The pricing for content writing is usually on a per-word basis and can be anywhere between Rs1 to Rs 5 per word.

Creative writing can also cover writing personal blogs, books, e-books and insightful articles over current issues and trends that can be published in newspapers, magazines or websites.

The other freelance writing opportunities include resume writing, data proofreading and reviewing and translation of content. 

Apart from a computer and internet connection, a basic skill of writing grammatically appropriate content and looking out for discrepancies is required along with the knowledge of certain languages for translation assignments.

Data Entry

This consists of simply entering large amounts of unorganised data into an organised database or inferring relevant information from the vast data provided.

This lucrative business option only requires a computer, internet connection and fundamental knowledge of computers.
Marketing Business
Aspiring entrepreneurs can explore several business opportunities in the marketing domain, especially digital marketing which can be easily managed from home and has an immense scope for growth given the ever-growing digital domain and the need to market on it. Some of the profitable business ideas related to digital marketing which can be considered in this pandemic era include-
Affiliate Marketing

This business consists of selling products and services of other traders for a certain profit. It could be clothing, accessories, kitchen utilities, toys, etc. Entrepreneurs do not require to maintain a stock of the products, they need to register for affiliate marketing or get into an understanding with the trader.

The requirements for this business is an internet connection and an online payment gateway subscription which will make it easier for customers to make payments and further to make payments to the traders or dealers of the products.

Affiliate marketing is a rage in the present times and is a lucrative business opportunity.

Social Influencer

Another business opportunity to consider in the digital marketing domain is that of a social influencer. Interested individuals can cash in on their followers on social media platforms and market products and services, based on their influence.
Other profitable business ideas opportunities in the marketing domain include creating a YouTube channel and becoming a YouTube personality to sell and advertise products and services.
These are home-based business ideas that can be considered by interested individuals who want to start their own business and earn a living post the lockdown. These businesses require minimal or nil investment and can provide a beacon of hope to those entrepreneurs who have had it tough during the pandemic and the subsequent lockdowns. For detailed information regarding specific businesses or assistance with starting their own business, entrepreneurs can get in touch with the experts at deAsra Foundation.