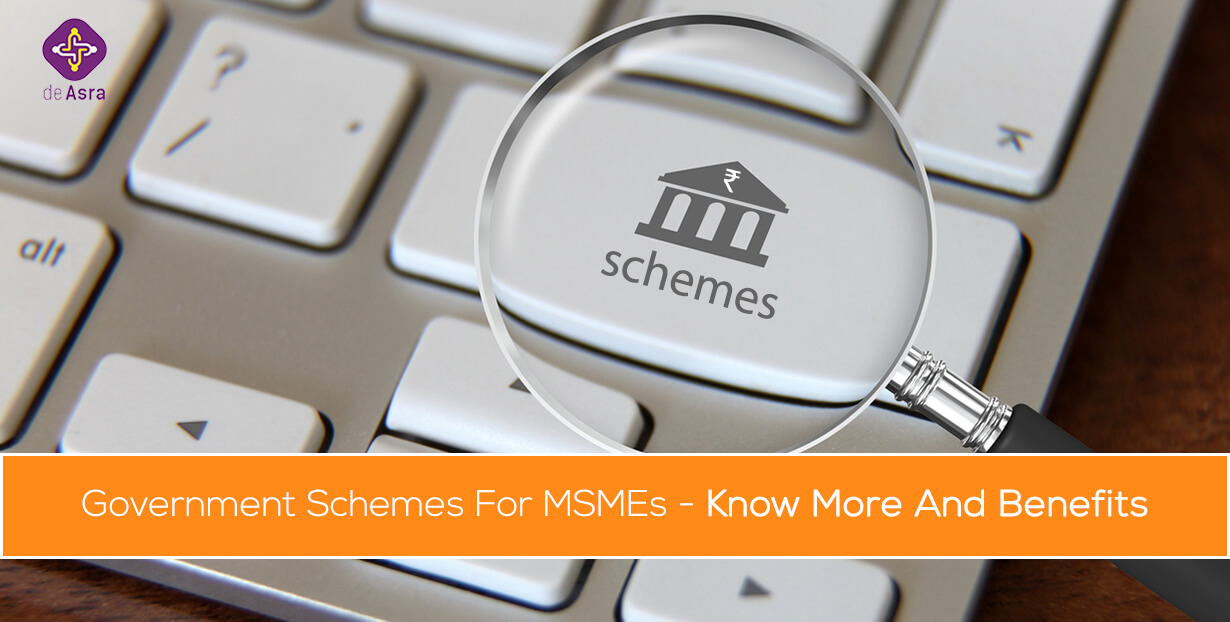 Government Schemes For MSMEs – Know More And Benefits
MSME or Micro, Small or Medium Enterprises are considered as the backbone of the country's economy, considering the significant contribution these enterprises make to the economy. The concept of MSME (or Micro, Small and Medium Enterprise) was introduced by the Government of India and is managed by the Ministry of MSME, classifying entities that are engaged in the manufacturing, production, preservation or processing of commodities and goods.
Enterprises are classified as Micro, Small or Medium depending on the amount of investment and the annual turnover of these businesses, irrespective of whether they belong to the manufacturing sector, service sector or both. An enterprise with an investment of less than Rs 1 crore and a turnover of less than Rs 5 crore is termed as a Micro Enterprise. A Small Enterprise is one where the investment is less than Rs 10 crore and the annual turnover is up to Rs 50 crores. An enterprise with an investment of less than Rs 50 crore and a turnover of up to Rs 250 crore is termed as a Medium Enterprise.
Government Schemes And Their Benefits
The Government of India introduces several schemes for the benefit of these MSMEs. However, often the MSME business owners are not aware of these schemes and thus lose out on benefiting from them.
These Government schemes for MSMEs have several advantages that business owners can benefit from. Some of the benefits of the Government schemes are as follows
The Government schemes provide a sense of security to the entrepreneurs
Some schemes provide financial security to businesses and individuals
Certain schemes provide technological support and guidance to individuals
Overall, Government schemes help individuals and entrepreneurs improve their livelihood
But often businesses lose out on taking advantage of these schemes designed for them owing to a lack of information regarding the various Government schemes.
deAsra's Assistance
deAsra has always had the well-being of entrepreneurs in mind and continues to work towards helping small business owners expand and grow.
In the same vein, deAsra is helping MSMEs be aware of the several Government schemes that they are eligible for and can thus take benefit of the schemes.
The platform makes it convenient and easy for small business owners to become aware of the several Government schemes that MSMEs can apply for and can benefit from and further help the entrepreneurs to apply for it promptly with the necessary paperwork ready.
Let's learn of some of the Government schemes for MSMEs that have been introduced by the Government keeping small business owners in mind and know their benefits.
Infographic
Title- Some Beneficial Government Schemes For MSMEs
| MSME – Samadhan (Delayed Payment Monitoring System) | Digital MSME Scheme | SAFE Plus (SIDBI) | ECLGS Scheme | Secured Business Loan | PMEGP Scheme |
| --- | --- | --- | --- | --- | --- |
| The MSME – Samadhan portal is created for MSMEs to file their online applications regarding delayed payments | The Digital MSME scheme encourages the MSME sector towards Cloud Computing for ICT adoption in their business process and production. | The SAFE Plus Scheme helps to meet the working capital requirements of MSMEs against Government orders related to working against the virus. | The ECLGS Scheme aims to provide 100% guarantee coverage to banks and NBFCs to enable them to extend emergency credit facilities to MSMEs to meet their additional term loan or additional working capital requirements during the pandemic. | Secured Business Loan provides faster dispensation of credit to MSMEs, especially those in the manufacturing segment and service sector for business-related expenses, (planned or unplanned). | The PMEGP is a credit-linked subsidy scheme to promote the generation of employment opportunities through the establishment of micro-enterprises in rural and urban areas. |