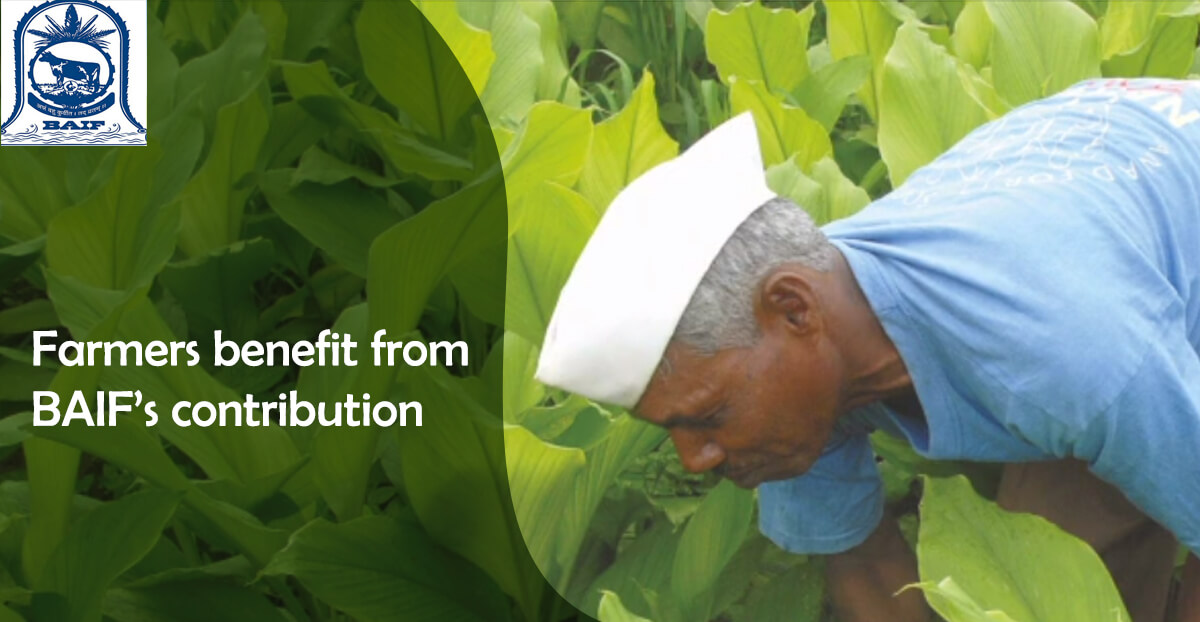 Farmers benefit from BAIF's contribution
Lead:  BAIF is working in the field of farming, livestock and rural development for many years.  Many schemes supplementing agriculture are implemented in villages.  This article gives an overview of the work BAIF is doing in agriculture-based entrepreneurship.  
The small place called  Sakhare is in Palghar district, Taluka Vikramgad.  Family of 5 of Baburao Lahare.  Monsoon dependent rice farm.  The rice crop used to be just enough for the family.  The only option to earn more income was to go to someone else's farm and work as labour.  Survival was barely possible.  They planted 200 saplings of mograa (Arabian Jasmine) with the help of BAIF in 2005-6, and they acquired the knowledge and science of mograa plantation and care.  Today they have 1200 plants of mograa.  The fruit of their hard work of preparing the required soil, planting the saplings and taking care of them earned them an income of Rs. 3,94,000/- in the year 2018-19 from mograa plantation.  They received the 'Krushi sanman award' awarded by Zee 24 Taas and Media Routes in the category 'Flower plantation in dry land'.    
Balasaheb Kolhe was working as a waiter in a hotel in Sonewadi in the Nagar District, Taluka Kopargaon.  While working there, he became acquainted with a person working in the cattle reproduction centre of BAIF.  He started to work there. He was keeping records of milk storage.  While doing it, he achieved mastery in artificial insemination and recognizing pregnancy.  He started a cattle development centre in Sonewadi with the help of BAIF and started working there as a technician in this subject.  He has completed 4200 cases of artificial insemination in a year. His annual income is 2 lakh 40 thousand Rupees.  There are many examples of families living in villages in India, who have benefitted and upgraded their financial status with the help of BAIF.       
We are all aware that India is an agricultural country.  Positive changes were brought about in the agriculture of India through changing technology along with new research in agriculture.   Even if this is true, there is still a long way to go.  The farmer is also facing challenges like changes in the ecological cycle, changing rates of agricultural products, inflation.  For the last 50 years, BAIF has helped the farmers hold a small piece of land, to make their farming a successful business, and help them earn extra income, thereby helping the farmers to improve their standard of living.    
BAIF means 'Bharatiya Agro Industries Foundation'.  The name itself has the words 'Agro Industries' and BAIF's work going on in many villages is solid proof.  BAIF has many projects to make communities financially independent and to reduce the migration to other places for work.  BAIF is taking solid effort by giving people farming and farming based businesses.  BAIF has done the essential job in many vital areas in villages for livestock development, dairy development, increasing water resources, farming and fruit and forest development on barren land, women empowerment and public health.  
BAIF is coming out with a program called 'Samruddhi', which will train the farmers in rural areas in subjects related to farming with the help of technology.  With this reference, we took more information from BAIF's E-learning team.  The Internet has reached the remotest villages in India.
If a business development program related to farming is to be implemented, then theory and practical knowledge have to be combined.  It is not always possible to go to the classroom to attend these programs.  If the same information and the course syllabus is available on a mobile phone or computer, it will be very convenient for the farmers.  With this objective in mind, BAIF has prepared an e-learning syllabus.  This information has been prepared in the local language.  Some videos are also included in it.  The farmers can avail this service during the day whenever they get some free time from work.  However, only information is not enough; it must be supplemented with training and practice.       
Practice centres will be established on the district and taluka level or in villages under this program.  If someone knows a specific subject of farming, he will give it to other farmers; this is the simplest structure that BAIF is trying to create.  It will be very convenient for the farmers if they get a facility where they can learn on a local level from direct experience and practical knowledge.  BAIF will try to provide this facility to the farmers at nominal charges for the training and lodging and boarding.  This year BAIF will try to engage 400 trainers and 4000 farmers learning from them in this program.          
Which training do people want to take from various districts, various geographical conditions, different financial sectors?  BAIF carried out a survey in Maharashtra to find out experienced people, who have worked in this field for many years, and who can provide training accurately and can give such knowledge.  If farmers get this knowledge, they can use it for their benefit in farming, and thus they can raise their living standard, this shall be the primary purpose of the trainers, and they will work positively to achieve that.  The trainers will also earn income through this program.  
BAIF is trying to implement this model of employment development on both sides.    
BAIF will train the trainers initially.  Fourteen sub-topics have been finalized for the training in livestock development, watershed development and planning of natural resources.  This information can be found in the attached table.  Depending on the subject there will be different schedules for them like, for example, 3 to 4 days to two months.  Information about the schedules will be uploaded on the BAIF website soon.  The expert team of BAIF is all set to give this information to farmers.        
The BAIF experts were doing detailed work for this program for one and half to two years.  A list of almost 170 various training programs was prepared.  These various programs have different schedules ranging from 1 week to 3 years.    
BAIF is preparing courses for various types of people, like students, those who have taken education in rural areas up to high-school or for those who want to do something different in their farms.  BAIF is trying to launch these courses through the Learning Management System (LMS) in six months.  The development of LMS is also ongoing.  Then it will be possible to subscribe to this course from anywhere.  For more information about this program you can contact BAIF on below numbers:
Pooja Majgankar – 9921600274, BAIF, Pune office – 020-25231661
baifbaif.org.in  
***