The dairy farming business is being seen as a profitable venture by both, new and experienced entrepreneurs in modern India. Large scale milk production plays an important role in building the country's economy. Furthermore, hardly any places in India that are not suitable for dairy farming. Modern methods of farming and innovative methods, make dairy farming a good business to get into now. However, dairy farming requires high investment and a lot of planning in the initial stages. This article will take you through the steps of starting a food business and write a business plan.

Dairy Farming Business Plan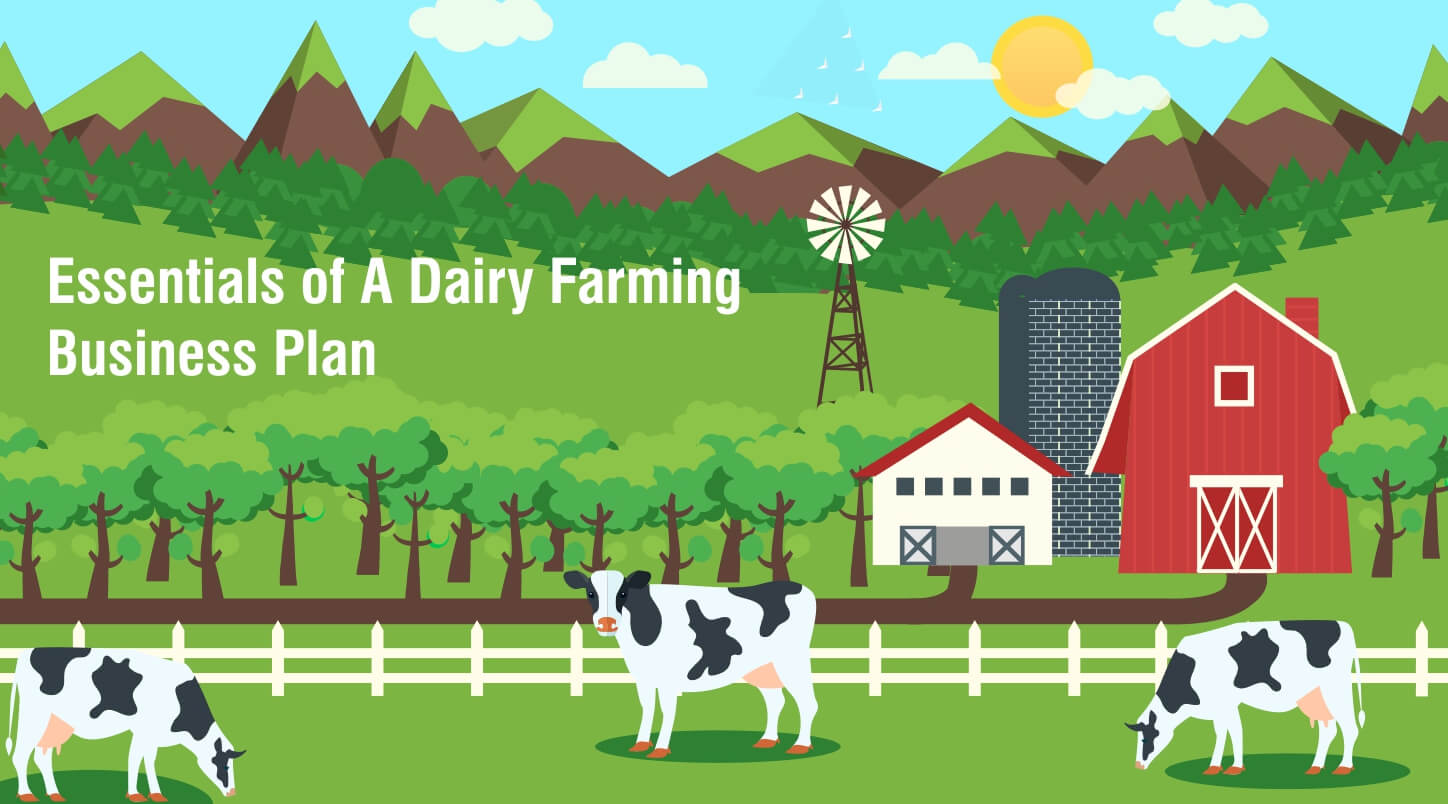 Executive summary
An executive summary is effectively a summary or mini business plan. Lenders and investors will probably make up their mind up whether to give you money based on this executive summary. It is mostly written in the end and in the same order as the business plan. An executive summary would generally include:
Summary

Company description

Market Analysis

Organization description

Product Line

Marketing plan

Marketing team

Funding request and use

Financial projections
In a modern summary you want to pay specific attention to the problem you solve, and your solution so far. Once you've written, make sure you get expert advice and feedback before submitting or circulating it.
Products and Services
Decide what products are services you're going to sell. Choose the one most suited to you and your area of expertise. There are a number of different options under dairy farming:
Butter and butter blends

Cheese

Yoghurt

Cottage cheese

Sour cream, dips and other cultured dairy products

Frozen desserts

Icecreams

Milk powder and why

Milk
You can choose a variety of products and you don't need to choose only one. Research the market and processes for each before coming to a final decision.
Investment
Before starting your business, your business is understanding the financial investment that you will require. Once you have a good idea of the amount you will require, you can approach investors and bankers for the money. Estimate your cash needs beforehand itself. You will need to estimate your costs for:
Raw material consumption

Electricity and Energy

Salaries and Wages

Animal Maintainance

Distribution expenses
Describe your financial strategy and how it supports your projected growth. Include a break-even analysis that shows risk as a matter of fixed vs. variable costs. Include projected profit or loss, cash flow and balance sheets. Develop a cash flow statement so you understand what your needs are now and will be in the future.
Decide the selling cost of your products. Create a cash flow statement that includes your revenue projections for your business. Estimate your sales in detail for every year and the expected growth.
You can get funding for your business in multiple ways. You have the option to self-finance your own business or get money from investors or friends who are willing to loan you money. You can apply for dairy farm business loans and schemes for entrepreneurs or apply for a grant from organisations.
Breeding
There is no scarcity of cattle in our country. Apart from the native breeds, even foreign cows and buffaloes are available.Carry out research about what species and breed of animal you would want to keep on your farm. The most common dairy animals are cows, goats, or water buffalos. Each one has a number of breeds, and you must choose which is best for you. You can contact agricultural and government institutions for information to help make the decision.  
Feeding
Cows and buffaloes need to be fed nutritious food. Whenever possible combine regular food with green foods, especially if you want to obtain uncontaminated milk. Unlike other animals, dairy herds require large amounts of fresh and clean water. Every cow and buffalo will have to consume at least five litres of water, in order to produce a litre of milk. Taking all this into consideration, look at how you can manage to acquire the amount of food and water you will require. This will also depend on how many animals you decide to keep on your farm. Get in touch with local institutions that can help you through the process.
Infrastructure
You must think of housing and infrastructure before you procure the animals. Elevated land prevents stagnation of water and waste on your dairy farm. Ensure that the foundation soils are not heavily dehydrated since they become prone to cracks during the summers when the weather is sunny and dry. Allow platforms, and gutters within the shed to soak direct sunlight. It should also have maximum protection from overly hot or cold winds. You will have to take all these into consideration and build a durable shed for your animals. It is important that your animals remain safe from hazards and wild animals. As far as personal space is concerned, each animal should be provided with an area measuring 40 sq ft internally (inside the shed) and 80 sq ft externally (outside the shed). There should be sufficient ventilation, which is an inward flow of clean and fresh air and outward flow of breathed out air. Apart from the housing for your animals, you will also need separate rooms for other things. They are to be used for storing implements, storing milk, maintaining an office, etc. Ensure that your land has a bore well, which can fill up a large-sized water tank within an hour. In fact, the water tank should be able to store at least 2,000 litres of water. Plan out the Infrastructure you will require, including the outdoor and indoor areas.
Market
Describe your target market, including market demographics, market growth and trends. Include a table that shows a market forecast. If you're starting with just a few animals, talk to nearby dairy farmers for advice on selling to local stores and individuals. If you have a slightly larger herd, you can get a more stable income by selling the milk to a company that will handle distribution. Make sure that there is a co-op, shop, school, or even a processor in the vicinity as they are likely to buy your milk. Describe the nature of your industry and the competition you have, by carrying out a SWOT analysis, which includes strengths, weaknesses, opportunities and threats that you face.
It is important to create a business plan checklist while writing a business plan. These are only the basics that must be included in the business plan, and you must figure out what is right for your business. A solid plan before you start your business will help you access risks and weaknesses and also help you succeed.
Along with creating a business plan, you must also acquire niche skills and knowledge on how to start a dairy farm and work on it to make your dairy farm a unique success story.