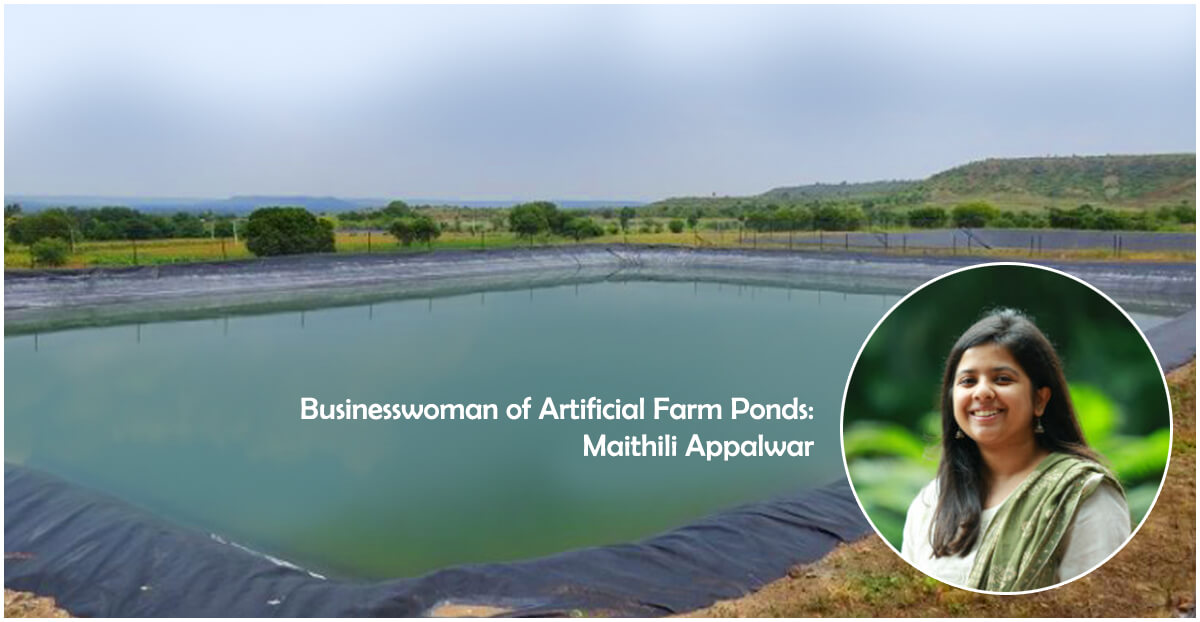 Businesswoman of Artificial Farm Ponds: Maithilee Appalwar
Lead:
Most of the Engineering graduates are opting for jobs in the IT (Information Technology) field. Excellent salary and a chance to go abroad are the main attractions.  Maithilee Appalwar has left her mark with her work in the area of artificial farm ponds.  Her story is therefore impressive and worth reading…
The human society on this earth will have to pay attention to the severe problem of "water" in the coming years.  Because of the growing population and the changing cycle of nature, a considerable movement is required in the society through all types of media for the water being used for farming, drinking and other uses and saving of water and its conservation.  If the farms do not receive water, then what will happen to the production of food grains? What is the future of the farmers without water in an agricultural country like India?  These are serious issues.  Many institutions are working hard to find out what they can do in the agricultural sector, knowing the need for water in future.  The story of highly educated Maithilee Appalwar, who has converted 'creating artificial farm ponds' in big business by linking water, agriculture and technology is very inspiring.
EMMBI Industries works in the production of Polyethylene and Polypropylene woven on machines.  This is used in many methods of irrigation like canals, artificial farm ponds as container liners or cloth.  
Maithili is the daughter of the founders of EMMBI Industries Makarand Appalwar and Rinky Appalwar.  She has seen the journey of her businessmen parents.  She always thought of contributing to the family business. 
Keeping this in mind, she completed her graduation in Industrial Engineering from Georgia Tech University from Atlanta in America.  She wanted to return to India and join the family business.  However, she also had set her mind on a thing taught in Georgia Tech, that is, your innovation must be useful and beneficial for the society and humankind.  She thought, can I use the Polymer manufactured in our factory for the benefit of the Indian farmers?  She had seen family business since childhood.  She knew that essential planning was required to start a new business.  But Maithilee's style was different, and she liked to start the work directly without getting caught in the planning stage.   She started the company 'Avana' only at the age of 22.  She has achieved significant success by creating artificial farm ponds through 'Avana'.  7500 artificial farm ponds have been created through the medium of 'Avana' till now. 
The Appalwar family is from Yavatmal, Vidarbha.  Maithilee used to hear about irregular rainfall, monsoon dependent farming and suicides of farmers in debt from her relatives and of course news channels.  Most of the people living in cities do not understand the gravity of the words 'a farmer without water'.  If she wants to work in the area of farming then, water is a challenging area, and so she decided to work on it.        
Maithili was brought up in Mumbai.  She did not have direct knowledge and experience of farming.  EMMBI Industries was already producing the most extensive, most durable cloth made of Polymer, which would last for a minimum of five years in the sun, where leakage issues were minimum.  So, she decided to build on the same concept, and that is how EMMBI's 'Avana' project started.
EMMBI Industries as a company did not have experience of working in the rural sector.  'Avana' decided to work with many institutions working in the agricultural sector.  The work was planned with the help of various subject experts.  Artificial farm ponds was an answer to farming and water conservation, but 'Avana' decided to do it professionally. The most challenging part was reaching out to the farmers….How did you do it?  Maithilee answered this question and said, "You must have heard of the Government's plan of giving farm ponds to whoever asks for it.  However, there was a need to reach out to the farmers quickly and tell them about artificial farm ponds and water conservation achieved through it, and also how farm ponds are a reliable form of water sources, and how it can help the farmers in farming. For this, we started informing the farmers at weekly markets and local meetings, where farmers gather in huge numbers, about the artificial farm ponds – "Avana water reservoirs", prepared with scientific measures.  Without cheating the farmers, we suggest options for farm ponds to them based on a survey of the farm, type of crop, geographical condition.  Our expert team helps them in the entire procedure.  We also help them get loans from banks for the expense of farm ponds.   
'Avana' participates in many exhibitions on District and State level.  This helps in reaching out to farmers.  'Avana' will have a big section in the Farmer's Exhibition being held in December in Moshi, Pune.  If the information mentioned above is also given to the farmers, the Avana team can also help prepare a computerised map of the farm pond and thus the cost of the farm ponds can be defined.  If a bank loan is required and if any Government subsidies are available, this information is given to the farmers.  The company provides a 5-year warranty on artificial farm ponds.  A team of 300 people from Avana strives to provide an end-to-end solution in creating artificial farm ponds and awareness of water conservation.  Till now, seven thousand artificial farm ponds have been created through 'Avana'.  Forty-five thousand people have had a positive effect on their lives due to Avana.  Because having water for farming is an essential thing for farmers.    
Avana calls this artificial farm pond product 'Jalasanchay' (meaning water conservation).  There are two products in the water conservation category 'Jalasanchay' and 'Jalasanchay Super'.  'Jalsanchay' is a product proven by EMMBI and Avana after working on it for one and a half years and after doing a lot of experiments.  'Jalsanchay Super' uses sky colour for the cloth.  The cloth of artificial farm pond is as per all the standards set by ISI.  According to its clause, the carbon percentage must be 2%.   It is challenging to give blue colour with 2% carbon, otherwise, this cloth will be black.  EMMBI used a new technology for this blue colour.  Water evaporates at a slow rate due to the blue colour.  It has been observed that the evaporation reduced by 50% after using the blue colour.  This is definitely going to benefit the farmers.  The blue colour helps in the growth of moss, which is helpful for fish farming.  The farmers can also use this for fish farming.
There are two separate products Perco Plus and Aquasave, which have been created using the durable Polymer material produced in EMMBI, these products are mainly used in bunds and canals.  Avana is also getting good response from Karnataka, Rajasthan and Madhya Pradesh.  Maithili, who is ably shouldering the responsibility of Avana, says, "Success in business cannot be achieved in a day, there is no alternative to perseverance and hard work."  Water is a social issue touching many aspects of life.  Maithilee has tried to find answers to these questions by converting it into a business.   It has created many employment opportunities.  The country will change if the Indian youth decides to get to the bottom of each and every question and work on it in this way.