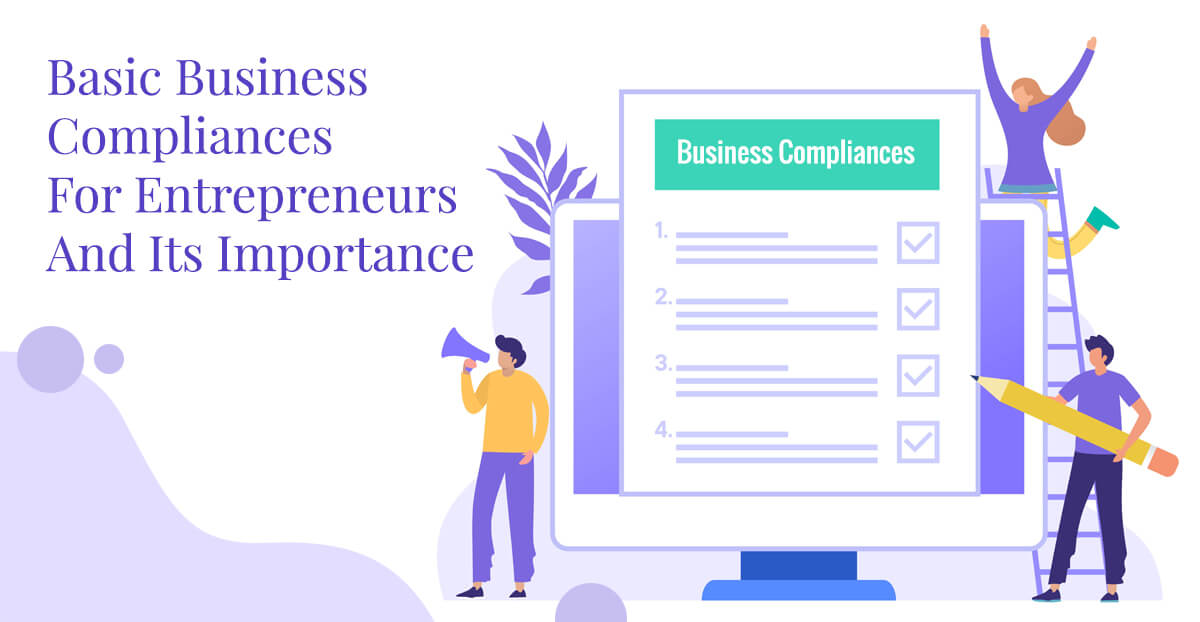 Basic Business Compliances For Entrepreneurs And Its Importance
Compliances are integral to every business and ensure that the business conforms to a rule, whether it is a law, policy, specification or standard. Start-ups and businesses need to comply with these regulatory compliances as the compliances define the goals that the business needs to aspire to achieve. Some of these also include legal compliances which help businesses be compliant with the law. But what exactly are compliances? 
What Is A Business Compliance?
Compliance is the act of being in alignment with guidelines, legislation or regulations.  In other words, it means conforming to a rule, such as a specification, policy, standard or law. Regulatory business compliance describes the goal that organizations must be aware of and aspires to achieve. This ensures that the business takes the necessary steps to be in compliance with relevant laws, policies, and regulations. These necessary business compliances are decided by the industry type along with the State and local laws. The compliances provide transparency into how the business operates with integrity and therefore are vital for businesses to abide by and implement.
Importance Of Business Compliance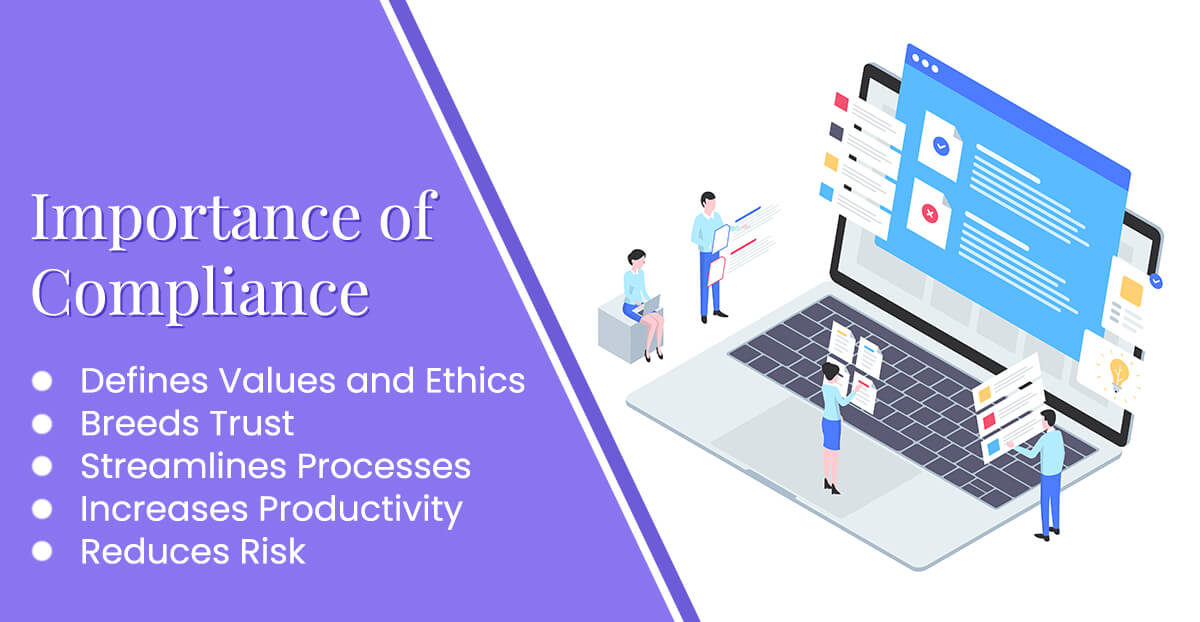 Now that we know that business compliance refers to the steps the business or organisation takes to ensure that it is in line with the law and acting responsibly, let's understand why it is important. The importance of business compliance includes-
Defines Values and Ethics
The implementation of necessary compliances within an organization define the values and ethics of that organization. This in turn creates an easy to adapt environment for the employees.
Good business compliance and its effective implementation breeds trust within the organisation and for the customers or clients too.
The inclusion of the necessary business compliances within the organisation ensures that the communication and processes are streamlined and effective. This positively impacts the efficiency and productivity of the business.
When a business's processes are structured and organised owing to business compliances,  the productivity of the business increases significantly.
By adhering to the necessary compliances reduces the risk of anything going wrong. This is because the compliances provide rules and guidelines for the business owners to follow thereby increasing efficiency and reducing the risk. 
What Are The Basic Business Compliances?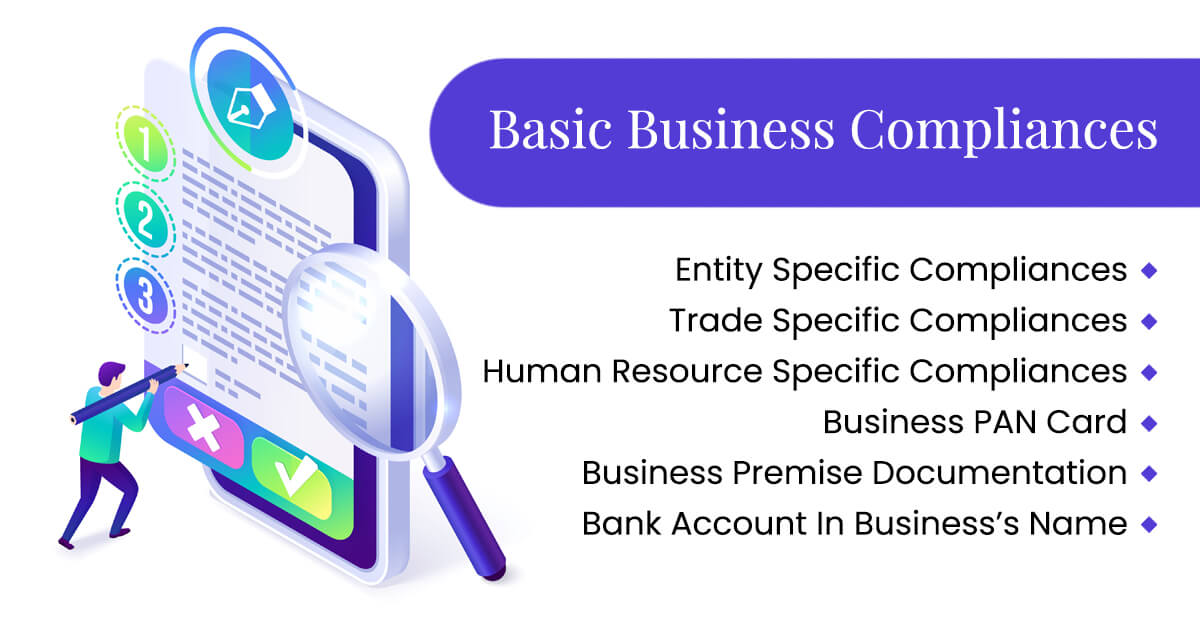 There are certain business compliances that are absolutely essential and a must for businesses. These compliances can further be divided into 3 categories, namely-
Entity Specific Compliances 

Trade Specific Compliances 

Human Resource Specific Compliances 
Entity Specific Compliances
Entity specific business compliance refers to business registration by choosing the suitable business structure. The business registration could either be a sole proprietorship, a partnership, a company structure, an LLP or any other structure deemed suitable for the business. The necessary documentation and legal regulations to follow depend on the specific business entity. 
However, there are certain legal compliances that need to be a regular practice for all business entities and these include filing of annual income tax return (ITR) and filing GST returns. 
Businesses must pay their ITR on time, even if they are exempted from it, to make their business compliant and to enjoy the benefits offered by ITR filing. Upon learning the detailed benefits of filing ITR, businesses will be convinced to file them annually along with GST. 
Trade Specific Compliances 
The trade specific business compliance refers to compliances necessary depending on the nature of the business. A food business requires an FSSAI licence, a manufacturing business requires a manufacturing license, an export-import business requires an Import Export Code or IEC, a transport business requires Motor Vehicle Registration, and so on. These trade-specific compliances are mandatory to run the business.
HR Specific Compliances 
The HR or human resources specific compliances refers to adhering to the Labour Regulations stipulated by the Government. This means that businesses need to obtain Shop Act Intimation or Registration depending on the number of employees within the organisation. The Shop Act laws are State-specific, and stipulate rules and regulations to be followed by businesses with regards to their employees, such as working hours, wages, attendance, etc.
Apart from these business compliances, there are certain other compliances that are necessary for businesses and these include-
Business PAN Card

Business Premise Documentation

Bank Account In Business's Name
Business PAN Card 
The PAN card or Permanent Account Number card is a ten-digit alphanumeric number card that is issued by the Income Tax Department. This PAN card is mandatory for individuals or businesses. The chief objective of the PAN card is to use it as a universal identification key or identity card to track all financial transactions that might have a taxable component and can be used to identify incidences of evasion of tax. 
While obtaining a PAN card is a vital legal business compliance to implement, it is equally important for business owners to file income tax returns or  ITR  on time as law-abiding citizens. ITR is a statement of the income earned by the businesses (or individuals) through various sources and their tax liability thereon. 

 Business Premise Documentation
Another necessary business compliance that must be complied with is obtaining the documentation pertaining to the business premise, whether owned property or rented space. This documentation is vital and necessary to produce in future, and must therefore be registered while starting the business itself.
Bank Account In Business's Name
A bank account in the name of the business (or in the name of the owner in case of a proprietorship) is another must-have business compliance. This legal compliance is needed while applying for a loan or to avail subsidies.
Along with these mandatory legal and regulatory business compliances, MSMEs and small businesses need to ensure that they follow all necessary financial as well as IT-related compliance requirements. This also includes registering the business for Udyog Aadhaar which provides recognition to MSMEs as well as bestows several benefits to the business. The IT-related compliances refer to having authentic software, necessary certificates, and safeguarding the data by implementing appropriate data security measures.
The implementation of the necessary business compliances ensures that the business is legally abiding by the laws and regulations and also taking measures to safeguard the business.
Assistance To Implement Compliances
The inability to implement all the necessary compliances mandatory for the business can result in fees and penalties as stipulated by the State laws, industry standards as well as federal laws. To avoid these penalties, businesses must therefore avail Legal compliances service offered by deAsra to meet its compliance requirements. This service helps businesses identify the necessary compliances they need to apply to, assist with all the required documentation and even carry out the registrations where necessary. So, for the smooth running of the business, and to avoid legal actions businesses must obtain and implement all the necessary business compliances pertaining to their business.