In a world obsessed with social media, everybody loves to be at their fashionable best. An updated wardrobe is a must-have. People prefer getting custom made clothes and stand out than following the crowd. Thus, clothing boutiques are getting increasingly popular because of a high demand for it and also owing to the many opportunities that come with it.  The Indian clothing retail industry is the largest among all the industries, accounting for over 10% of the country's GDP and around 8% of the total employment. Clothing boutiques not only compete with other local boutiques, but they also compete with clothing retailers, department stores and big box merchandisers. A clothing boutique is an exciting venture that can be started after some research. Starting a fashion business is an appealing option and the first step in that direction involves writing a business plan. 

Boutique Business Plan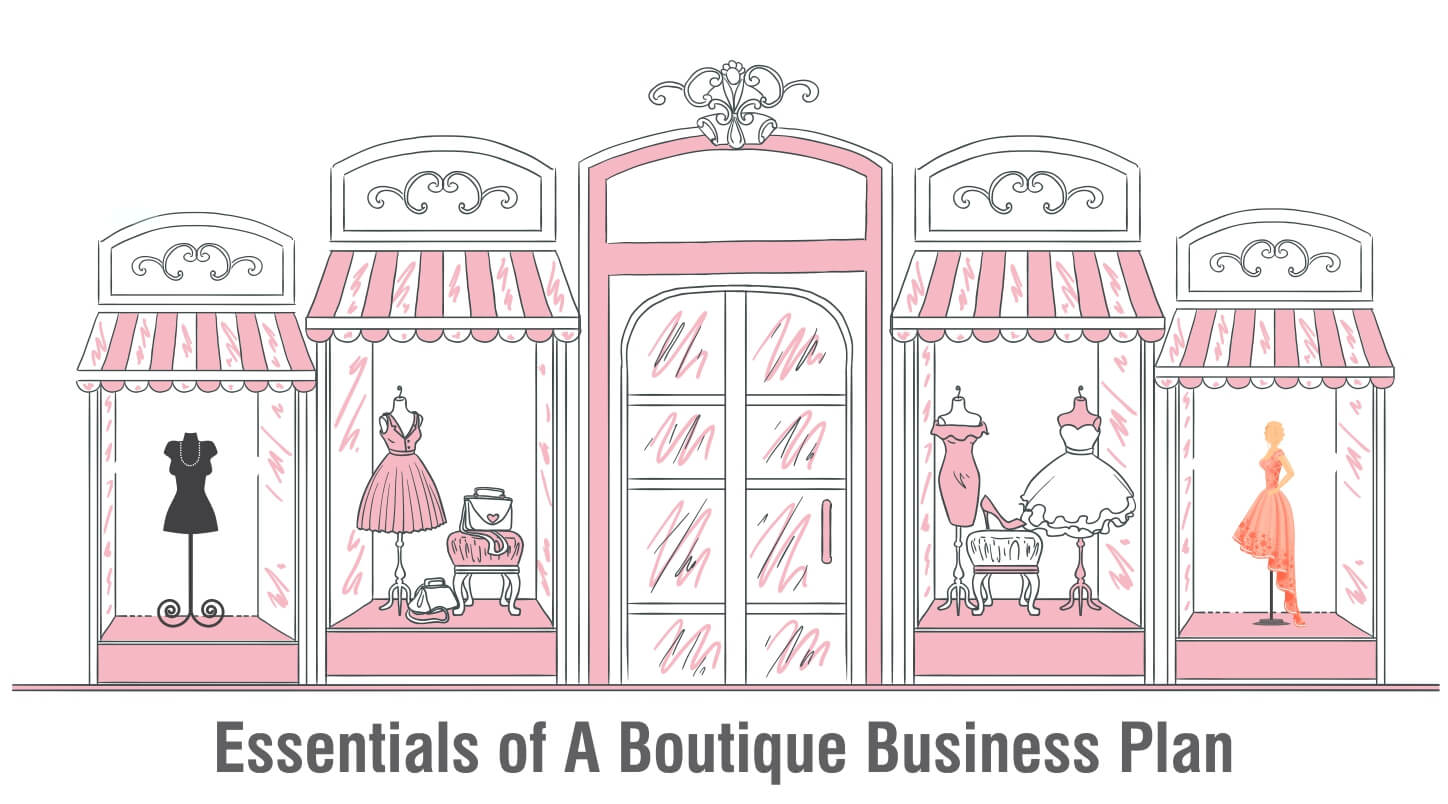 Executive summary
An executive business summary must be included in the plan to explain the entire idea and concept. Lenders and investors will probably make their mind whether to invest money in your plan or not based on this executive summary.
Before you step into the business, create a boutique business plan which you can refer to in case of any difficulty. Summarize your boutique's business plan and place it at the start of the entire plan as an executive summary. If you are seeking financing with the business plan, include the amount that you are seeking within this summary and describe how the funds will be utilized and how soon the funds will be repaid.
Niche
Research is an important aspect when it comes to deciding your prowess. Your product line is one of the most crucial aspects of your business. Provide a list of your boutique's products. Detail your products' unique qualities and explain why the products benefit your customers. Explain where you will obtain your boutique's clothing from and include the costs of your vendors and suppliers. You should align your niche to the type of product you understand and have knowledge about and also consider what your target group expects. Find out what you are interested in and research that niche domain completely.
Below is the list of choices you can explore and opt for:
Women's clothing

Men's clothing

Children's clothing

Accessories

Footwear
You can choose to offer a variety of products in these areas. List what you are most informed about and interested in. A clothing boutique can offer different products such as:
Formal wear

Semi-formal wear

Ethnic wear

Casual wear

Gym wear
Keep Yourself Updated
One of the key factors of creating a successful boutique business plan in India is a strong sales plan. As a boutique owner it goes unsaid that you have to keep up with the trends and fads of the fashion industry. Keep updating your merchandise keeping in mind what is in vogue and what clothing patterns are in demand. 
Market research
Explain your boutique's target market or the customers that you intend to capture. You should be completely aware of your competition. Carry out a research about the other boutiques already present in the area where you want to start yours. Categorize the competitors into direct and indirect competitors, with direct competitors being other local boutiques in your area and indirect being department stores and big locations. Describe the customer demographic and their locations. Explain your boutique's strengths and weaknesses as compared to the competition and explain the strategies your boutique will use to achieve a competitive edge. Also, before finding a location, describe the amount of space your business will require.
Company structure
Introduce your clothing boutique with a general business description.   boutique's business entity, such as a sole proprietorship or partnership, along with the boutique's list of owners, their contact information and the boutique's contact information.
Decide if you want to be a part of a franchise or have an independent clothing line. The benefits of having a franchise is that it will save you the effort of creating and establishing a brand name. As a part of a franchise, your boutique will operate as a part of a bigger group. Since you'll be a part of a franchise, the franchisor would provide support for setting up and operating the branch. You can also establish and operate as an independent clothing boutique and clothing line in your locality. An independent clothing line will enable you to experiment with the current trends of the market. 
Manpower and equipment
It is not just the cloth that will be sold, there are a lot of things that pair up with a piece of cloth that make it desirable. List the most reliable wholesale suppliers for your boutique. When you go to the wholesaler, be sure to get samples. Pick the best supplier after negotiating and coming to a reasonable price for a good quality product. Some of the materials you will require when you start your business are:
Buttons

Laces

Zippers

Clasps

Elastics

Threads

Needles

Embroidery threads

Glasses and mirrors

Labels, tags, and packaging
Running a one man show might sound as a big money saver, but eventually you will need a few helping hands for the smooth running of your business. To be a customer-centric business, hire employees that are representatives of your boutique's style, and are friendly and efficient. You need to list down all the posts and who will fill them. Describe each post in detail, list down their duties and responsibilities. Figure out the gaps in your employment and understand how you can eliminate them. Make sure the staff is reliable and willing to work extra hours during times of need if required. These are some of the employees you might  need:
Production staff

Designer

Tailors

Press/iron man

Dyer

Administrative staff

Customer service staff
Finances
Finance is the most important part of any business. You should aim to be as specific as you can when it comes to your finance, which includes describing your financial strategy and how it will support your projected growth. Create your clothing boutique's financial statements. Include a personal financial statement, balance sheet, cash flow analysis, and income statement. Estimate your liquid fund requirements to start your business. Before you actually start running the boutique, you must purchase all the products, material and equipment required running the business. List down the services and what raw materials and equipment are required.
You must also decide where the funding for your business will come from. You have a number of options to choose from:
Self-financed

Banks and other financial institutions

Government and institution grants

Investors

Friends and family
Whether you're borrowing money through a traditional bank loan or have teamed up with investors, you need to figure out how much money you need to get started. Research the paths for each and come to a decision about which one is suitable for you.
Marketing
No matter how amazing your clothing line is, if you don't market it right, your store will be as good as invisible. Once you start the boutique and have a unique collection of clothes ready, the next step is to get the customers. Having a good marketing plan will solve this problem.
Social media is today's giant! Use it to increase your popularity. With such amazing online platforms, it becomes easy to spread the word. Exhibit the piece de resistance of your collection on social media to increase sales. This will not only increase the footfall in your business but also increase sales online. Your plan should include how you intend to show your target market that you've got something they're looking for. You could mail flyers to businesses or residences in the zip code where your store is located, as well as to surrounding zip codes; and also put ads in local newspapers.
Opening a clothing boutique is a unique and rewarding experience once you gather all the necessary information about how to start a boutique. Further, starting a business on your own can be exhilarating and having a business plan in place helps make the process additionally easier and smoother. Writing a business plan is the first step you will take in making your dream a reality. While writing a business plan, the points discussed above are some of the conventional elements that need to be included. However, it depends on your requirement which will decide what you choose to include while preparing a business plan.
Before writing the business plan, be sure to have a business plan checklist handy so you know that you've got all the bases covered. If you still have questions and need more guidance then contact deAsra, we will help you through the process of starting your business.