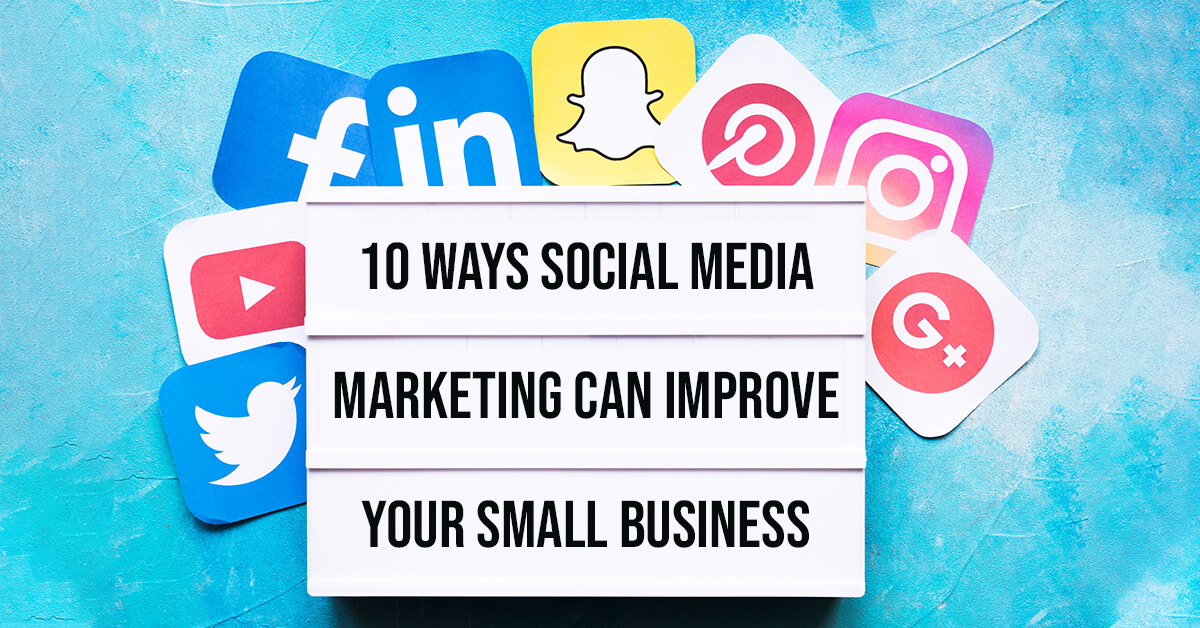 10 Ways Social Media Marketing Can Improve Your Small Business
Social media platforms are the most essential methods in today's times for businesses and start-ups to connect with their customers and to market and advertise their business. Social media platforms help boost the sales of a business as well as propel lead generation. 
Approximately three billion people worldwide are using social media platforms every day and more than a million are logging onto their social media accounts every month, thereby leading to an exponential growth in user count and engagement for businesses present on these various platforms. It is a place for all businesses, small or large, to be in order to cash in on the benefits of social media marketing and to help the business grow and expand.
Benefits of Social Media Marketing 
Let us delve deeper into the reason why businesses must be on social media platforms to improve their business and the various benefits of social media marketing.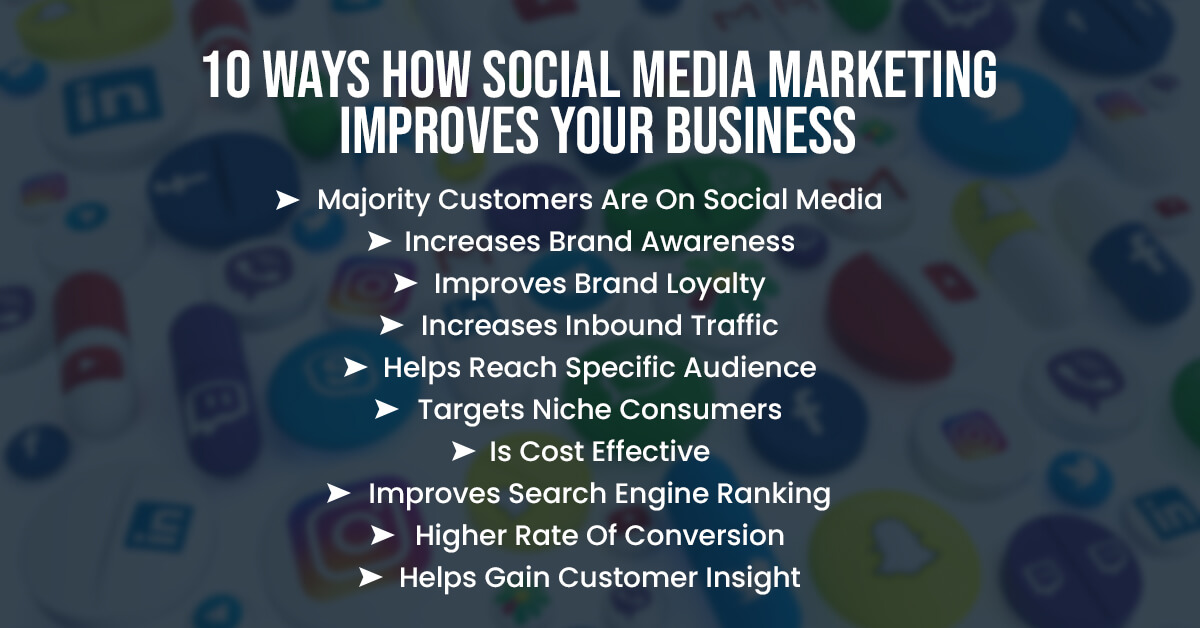 Majority Customers Are On Social Media
One of the chief benefits of social media marketing for business is that the majority of their customers are present on these platforms and it is the best way to catch their attention and talk about the business's products or services. In fact, statistics reveal that approximately 45% of the world's population is on social media networks (that is 3.48 billion people) of which more than 1 million are signed in per day in the last year itself. This figure gives an estimate of the power of social media and the global reach it has thus providing an easy medium for businesses to reach millions in one place. All a business has to do is get online via an online starter pack and create an account on the various social media platforms and then there is no looking back given the numerous advantages of social media marketing for businesses

Increases Brand Awareness
Social media marketing helps increase awareness about the brand that the business wishes to create and promote. And brand awareness increases sales as people tend to buy brands that they recognise. One of the benefits of social media marketing is that in comparison to traditional marketing methods it brings about brand awareness much more easily as well as quickly. With social media marketing, brands might appear in front of consumers when they are not even looking for it. And the more they see a particular brand and engage with it in terms of content, consumers develop a sense of familiarity and trust which can lead to greater sales too along with improved brand awareness.
Improving brand loyalty is another one of the benefits of social media marketing. A social media presence is not just limited to the marketing and promotion of a business. It also allows customers to follow and engage with the business via its presence on various social network platforms. The social media pages act as a channel for customers to talk about the product or the service, give their review and feedback on the products or services. Further, customers can even tag the business on various social media platforms and therefore create a brand image as well as display their loyalty towards the business. Thus, social media helps improve brand loyalty for the product or service of a business.
Increases Inbound Traffic
Another importance of social media marketing is that it helps increase the inbound traffic towards the business page or account. If entrepreneurs did not tap into the power of social media marketing for their business, their customers would be limited to the loyal customer base but with the power of social media marketing, they can channel inbound traffic to their business. This happens by being on social networks as it allows people of different demographics and varying search techniques to stumble upon your page and increase your customer base across the globe.
Helps Reach Specific Audience
One of the most vital benefits of social media marketing is that it allows your business to reach a specific audience easily unlike traditional marketing. If a business needs to target professionals it can be on LinkedIn, if it needs to reach out to people at large who can share their thoughts and opinions, they can be on Facebook or even Instagram, if a business needs to reach out to an audience via videos it can be on YouTube. Thus depending on the audience, the part of the world it is in and the ways to reach them, social media marketing can be planned and used optimally.
Social media marketing helps businesses target their niche consumers which is otherwise difficult to achieve via normal marketing or even through Google searches. For instance, if a business is dealing in beard hair oil, its target customers would be men with beards. Similarly, for a cosmetic brand offering hair dying and colouring options, the target audience would be older adults in their late 30s -early 40s and above. Social media marketing helps businesses target their niche consumers and promote directly to their targeted and interested audience. If if the business promotes itself via influencers, it can choose influencers who has a higher following of the niche audience only.  
One of the most alluring benefits of social media marketing is that it is highly cost-effective because it does not cost anything to sign up and create an account on all or any of the popular social media platforms. Also, it costs zilch to promote your business and post on these social media networks. Even if the business decides to get social media management services like that offered by deAsra, to handle all its social media accounts, the rate of return is much higher and advantageous to the business, therefore, making social media marketing a very cost-effective option.

Improves Search Engine Rankings
Search engine optimisation (SEO) is the process of having the appropriate and optimal keywords attached to your business and its webpage such that whenever anyone searches for those particular keywords, your business is one of the first few to appear on the search engine. This helps drive traffic to the business and helps the business grow. Although social media has no direct connection to search engine optimisation, it has been observed that improved social media presence has directly impacted the search engine ranking for the business, positively. This can be achieved via high-quality content that integrates the keywords using blogs, infographics, pictures, examples and case studies etc. The greater the engagement on a page with more 'likes' and 'shares', especially via social media influencers, the greater the improvement in search engine rankings. 
Higher Rate Of Conversion
Another benefit of social media marketing is that it leads to a higher rate of conversion of potential clients into actual consumers. The greater visibility achieved via a social media presence, especially an active presence through interactive posts, pictures and videos, results in greater business opportunities thereby leading to a higher conversion rate. The opportunity to be in a place (social media platforms) where people share their opinions, their likes, dislikes, preferences, and interact with their friends and families can increase the chances of the business being mentioned, referenced, linked and thus leads to a higher rate of conversion thanks to social media marketing.
Helps Gain Customer Insight
Social media marketing and its strategies in the form of polls, quizzes, questionnaires, and just the general opportunity to connect with customers and know their opinions helps gain insight into what the customers like, dislike, what interests them and what is working in the favour of the business and what isn't. Thus gaining customer insight is another beneficial importance of social media marketing. It helps businesses plan their next marketing moves more effectively, leading to higher conversion, greater traffic and significant growth of the business.
These are just some of the important benefits of social media marketing for a small business and can help improve the business in significant ways. For further in-depth knowledge and learning of social media marketing techniques to improve the business, entrepreneurs can enlist the marketing services offered by deAsra.