Ayurvedic Medicine Manufacturers: Growth in the Business Post Lockdown
The corona virus and the COVID-19 pandemic have wholly changed our lives and made us re-examine our priorities. One of the first things that appears on almost everyone's priority list is being healthy and building a stronger immunity. In fact, 'immunity' has been one of the buzzwords of the lockdown that was imposed in the country to curb the spread of the viral disease. The pandemic has made us realise that our health is of topmost importance, while most materialistic things which otherwise seemed essential are mere indulgences. 
We now value the benefits of eating clean home-cooked meals and having a fit body with a good immune system. This deliberate shift in lifestyle with the focus on being healthy has led us back to our roots, and made us value the traditional methods indigenious to our country, such as Ayurveda. 
Ayurveda- Science Of Life
Ayurvedic knowledge originated in India and dates back to 5,000 years ago. Ayurveda, as a science, finds its origin in the ancient Vedic culture and literally means "The Science Of Life" in Sanskrit. Ayurveda is often referred to as the "Mother of All Healing" too. 
The science of Ayurveda itself places emphasis on prevention and encourages the maintenance of health through close attention to balance in one's life, right thinking, diet, lifestyle and the use of herbs. Ayurvedic medicines, methods and lifestyle practices have been proven to be effective in the fight against the coronavirus. Therefore the principles of Ayurveda make it a favourable option to build one's immunity against the deadly corona-virus. 
Ayurvedic Medicine Manufacturers: Growth in the Business Post Lockdown
Consequently, COVID-19 has led to an increase in the demand for immunity boosting Ayurvedic manufacturing of products. The proof of increased popularity and demand for Ayurvedic products can be seen via the keen interest taken and investment made by international personalities such as Jonty Rhodes, who founded an artificial intelligence based Ayurveda platform recently. 
Closer home, the demand for Ayurvedic medicines to boost our immunity is proof of the rising preference for our time tested, ancient Ayurvedic practices. The Ayurvedic medicine manufacturing units in Indore alone have registered an overall 20% growth from the sale of immunity boosting products and cough syrups post the COVID-19 situation. Other popular Ayurvedic product companies such as Baidyanath, Dabur, Upkarma Ayurved, etc too have seen a sharp rise in the sales of their immunity boosting products. The presence of AYUSH (Ministry of Ayurveda, Yoga and Naturopathy, Unani, Siddha, and Homeopathy) approved immunity enhancing Kwath and turmeric milk shots within every household in the country is indicative of the rising preference for Ayurvedic medicines and methods.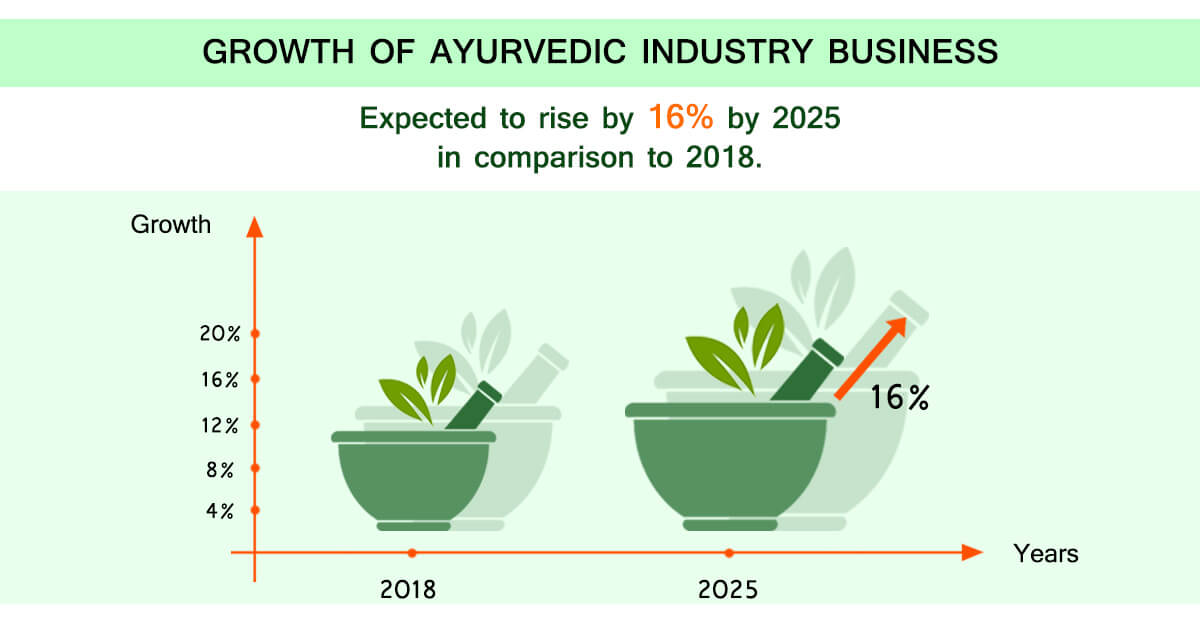 Future Growth In Ayurvedic Industry
This demand and interest in indigenous Ayurvedic medicine and products is not just a phase but is set to grow in the future too. In fact, the global Ayurvedic market is expected to rise exponentially in the future, given that people are increasingly shifting towards Indian Ayurvedic medicine. In the year 2019, the size of the global Ayurvedic market was USD 6555.7 million and is now expected to reach USD 14620 million by the end of 2026.
Domestically speaking, the Confederation of Indian Industry in 2018 had estimated the domestic ayurvedic market at Rs. 30000 crore and has estimated it to show a compound annual growth of 16% by the year 2025. A major 75% of this market is accounted for by product manufacturing and sales alone. 
These figures show the potential for growth of the ayurvedic manufacturing business, which has been further escalated by the COVID-19 pandemic. The ayurvedic industry is thus expected to rise and grow greatly post the lockdown. And the time for aspiring entrepreneurs to venture into this profitable business is now!
Essential Details To Consider To Start An Ayurvedic Medicine Business
Given the increasing preference for products obtained via Ayurvedic manufacturing methods, there is immense scope for interested entrepreneurs to venture into the ayurvedic industry. There are various aspects of the business that entrepreneurs can venture into, such as retail of ayurvedic products, obtaining a particular franchise, providing ayurvedic consultancy and services or getting into the ayurvedic manufacturing business. Entrepreneurs can always avail business planning and Idea validation service to ascertain which sector of Ayurvedic industry to venture into or what products to manufacture and specialise in. 

The following essential details will help entrepreneurs turn into successful Ayurvedic medicine manufacturers. 
The first step to the ayurvedic manufacturing business, just like with any other business, is to have a business plan in place. A business plan is a written document that mentions the goals and objectives of the business, in this case the ayurvedic business, the steps and methods to achieve the goals (i.e. how to start the manufacturing of the ayurvedic medicine, which protocols to follow, equipment required, etc), and the approximate time and investment required to achieve the goals. 
A business plan is highly effective in identifying the exact goal of the business (starting ayurvedic manufacturing of products in this case). It further helps examine the viability and feasibility of the plan in the long run. The ayurvedic manufacturing business plan must therefore be comprehensive, including all the necessary points. Entrepreneurs can download business planning checklist to make an effective business plan for their Ayurvedic manufacturing business. 

Select Premises For Ayurvedic Products Manufacturing Unit
Once the business plan for starting an ayurvedic manufacturing unit has been finalized, the next essential step includes putting the plan into action. Finding a suitable premise for the manufacturing unit is vital. The space selected can either be an owned property or even a rented one, as per the budget available  
The area required for the unit, as stipulated by the Drug and Cosmetic Act, is a minimum of 1200 square feet. If along with Ayurvedic products, the entrepreneur wishes to manufacture unani products too, then an additional 400 square feet space is required. It is also vital to keep a sectional division within the unit specific for each dosage form. This means that the tablets and capsule section requires a minimum of 100 square feet designated area while liquid medicine production requires a minimum of 150 square feet of designated partition area.
Obtain The Necessary Licences
In order to become ayurvedic medicine manufacturers, entrepreneurs need to obtain several licences which are mandatory in order to carry out the manufacturing process. 
Manufacturing License Number
The first application to be made is for a Manufacturing License Number. This licence is issued by AYUSH and not the FSSAI. The Ministry of AYUSH issues the following three types of licences – 
Complete Manufacturing Licence

Loan Licence

Contract Manufacturing or Third Party Manufacturing or White Label Manufacturing or Product to Product Manufacturing

Product Approval + Manufacturing License Number File
The next requirement is to apply for a Product Approval along with a manufacturing license number file. The documentation process as well as the procedure to start an ayurvedic manufacturing unit varies from each State to State within the country and sometimes varies from area to area too. 
The basic procedure involves the submission of application on the prescribed Form 24-D along with fees. Post this an inspection is carried out and if all criteria regarding the premises (square feet, owned or rented, site plan), equipment list, number of employees and their degree qualifications, pollution board clearance certificate, Power Availability Certificate, product list to be manufactured and project report are approved, a Licence is given. Being subject to the conditions of Rule 157 being fulfilled, the license is issued Form 25-D which is valid for a period of few years from the date of issue.
For any seller of goods or services it is important to enroll under the uniform taxation system of the country, namely the GST registration and obtain a GST number in order to carry out their business. This rule came into effect from 1st of July, 2017 and is necessary for the ayurvedic manufacturing business as well. This number can be obtained by registering online for GST via a simple, paperless procedure.
Once all these licences are applied for and obtained, you can start manufacturing and selling the products manufactured in the ayurvedic unit.
List The Equipment And Machinery Required
The list of essential equipment and machinery required to start an Ayurvedic manufacturing unit are listed below. These equipment lists are further divided as per the dosage, i.e., those required for liquid dosage and for tablet/capsule dosage. 
Oil and liquid section equipment
Tables

High speed mixer for tank

S. S. tank- 200 liter/500 liter/1000 liter capacity with wheel and cover lid

Liquid filling machine double head

Liquid filtration unit

P.P. cap sealing machine
Tablet and capsule section equipment
Air compressor along with air conditioner

Capsule filling machine zero number

Capsule Loader zero number

Blister packing machine

Tablet Punching Machine

Dehumidifier

Sifter

Mass mixer

Multi mill

FBD

Double cone blender
Along with these the miscellaneous equipment required include an RO plant, a batch printing machine, balances of weights like 200gm, 30 kg, 100 kg, etc and laboratory equipment. 
Once the premises, licences and equipment are in place, the ayurvedic manufacturing business requires qualified and competent employees to help with the production process. 
The staff for the production unit must either have a degree in Ayurveda or Ayurvedic Pharmacy, Siddha or Unani system of medicine or a diploma in the same from a recognised University. Alternatively, the staff can be qualified pharmacists in Ayurveda or possess a degree in pharmacy or botanical science with relevant experience of Ayurveda and ayurvedic medicine manufacturer and manufacturing process. 
Competent staff for the ayurvedic medicine manufacturer's laboratory and for the office work too. 
The next final step involves devising a marketing plan to sell the products. These products can be sold directly to retailers or set up a franchise model. Also ayurvedic medicine manufacturers can make use of online retail platforms such as Flipkart, Amazon, etc to sell their products. Entrepreneurs can also visit ayurvedic doctors and practitioners directly to advertise and market their products. 
These essential details along with an increasing preference of a rising number of individuals for indigenous Ayurvedic products indicates a growth in this industry and provides sn opportunity to venture into it successfully. Entrepreneurs can successfully turn into Ayurvedic medicine manufacturers with business guidance from deAsra to help them at every step.