Andaman- Aitihasik Paryatan Udyog
The Heritage Tourism Business In Andaman 
The Marathi people are reminded of 'Swatantrayaveer Savarkar' and his grim punishment at the Cellular Jail at the mention of 'Andaman'. The mere thought of the Prison and the Sea of Andaman is enough to send shivers down one's spine. The islands there are too beautiful to miss as well. Captain Nilesh Gaikwad was able to identify this attraction that the Marathi people have towards the Andaman Islands and thus, the patriotic themed journey of Andaman Tourism began. Before we start with this journey, let us first get to know Captain Nilesh Gaikwad.
Captain Nilesh Gaikwad was born in a family of teachers in a village called Satana in the district of Satara. Since both his parents were teachers, there was no chance of him getting into the field of business. But during his college days, he had made up his mind to not get stuck in a mundane job. He made a firm decision to start his own business and not wait until he graduates from college. In those days, computer business was not much in trend in Nashik. He started his Computer Sales and Services business by the name of 'Silicon Valley' right after finishing his 12th grade. His business received a massive response right from the beginning. The business flourished and he had a team of 40 employees within 1-1.5 years. Soon, after a few years, more than 240 centers of Silicon Valley were established all over Maharashtra. Meanwhile, the Silicon Valley started training people in the use of technology. This got a huge response at all its centers, too. The Silicon Valley business is still enjoying this success. 
Right after being successful in this business, Mr. Nilesh inadvertently entered the field of travel and tourism. Since his childhood, he has always been an earnest devotee of the great freedom fighter Swatantryaveer Savarkar. He never missed a chance to visit the Cellular Jail whenever he used to go to Andaman for his business tours. The cell, where Veer Savarkar spent his prison days in, had his great poetic writings engraved on the wall which always brought tears to Mr. Nilesh's eyes. He thought that every devotee of Savarkar must get to experience this visit to the Cellular Jail. So, he thought of taking such devotees on a trip to Andaman by the name of 'Savarkar Abhivadan Yatra', when he came back to Pune. It was the year 2007 then. He knew a few people in Andaman because of his frequent trips to the island. They had showed their readiness to help Mr. Nilesh with his  'Savarkar Abhivadan Yatra' as well. Therefore, Mr. Nilesh was quite confident that he would be able to organise this trip. But travel and tourism wasn't his business. So, he decided to do something different in this field that the other travel agencies were not doing at the time. The thoughts and writings of Veer Savarkar are very valuable and famous. However, a lot of people do not know him as a littérateur, as they know him only as a freedom fighter. Veer Savarkar engraved many poems on the walls of his cell, when he was in prison. Therefore, Captain Nilesh decided to organize a trip with a literary convention of Veer Savarkar's writings as the theme. At first he thought that only 20-25 people would be enough. But surprisingly, almost 400 people made reservations for the trip within a week, while 400-500 people were still on the waiting list. This was all because of Captain Nilesh and his team's success in conveying their unique concept to the public.
The next task of taking so many people along on this trip came up after almost 400 people booked this trip. Captain Nilesh talked to one of the biggest travel agencies in the city to solve this question. But at that time, a mechanism that would allow him to take 400 tourists to Andaman at once was not available. Nobody believed or even thought that 400 people would be coming to the very first trip of this new tourist business. Captain Nilesh then talked to the flight companies directly and all the arrangements were finally made in a few days. Everyone cooperated well and the trip was a great success. The tourists not only attended the convention and visited the Cellular Jail, but also visited the famous islands. Each and every person was happy and satisfied. Captain Nilesh was also satisfied that everything went systematically and according to his plan. No sooner did he think of getting back to his business of Silicon Valley than more people started queuing in front of his office to enquire about the next trip to Andaman. Many people wanted to visit Andaman, especially the Cellular Jail. More and more people had started showing interest in this trip after the success of the first trip. They were very excited after hearing the positive response from the ones who went on the first trip. Looking at this huge response and excitement from the people, Captain Nilesh started thinking seriously about these social trips from a professional point of view. He realised that even if the original intent of this trip was that of a social work, he had to think professionally, if he wanted to take so many people to Andaman. He decided on the target of bringing 1 lakh people to Andaman through these trips. Mr. Nilesh always says that an entrepreneur should always set goals and targets for himself and for the business, so that it motivates them to work hard towards achieving the goals and targets. If one just lets things go as they are going, the chances of the failure of a business increase. And so, Mr. Nilesh started his journey of Andaman Tours by working towards his target of taking one lakh people to Andaman.
Captain Nilesh never wanted to earn a profit from this business, as they were conducting these trips mainly from a social perspective. Hence, the fees for the trip are always charged at a reasonable price. The trips are planned according to  age groups, to ensure everyone's comfort. The people are divided into groups of 30 according to the ages for more convenience. An independent management is assigned to each group, which helps in managing every group and reducing confusion. Such groups are sent to Andaman almost everyday.  Till date, around 70,000 people have gone to Andaman through Mr. Nilesh's organisation. The groups consist of more senior citizens due to their interest in general history, and the significance of Veer Savarkar for that generation. They were too cooperative to complain about anything. Everyone from 100 year old grandfathers, to the handicapped people has enjoyed the trips with Captain Nilesh.
The trips not only let people visit the Cellular Jail and Veer Savarkar's cell, but also let them visit the famous islands in Andaman. The spectacular beaches, the majestic Ross Island, Wandoor beach, Neill Island, North Bay Island, Jolly Buoy Island, Havelock Island, Red Skin Island, etc. are some of the amazing islands which one should definitely visit, and are part of the tour's itinerary. The water sports like scuba diving, snorkelling, etc. are also very popular. The variety of corals are too beautiful to miss. In Chidiya Tapu, there are 46 different and beautiful types of birds which you don't get to see everyday. The Anthropological Museum, Marine Museum, Zoological and Fisheries Museum, Science Center, Sippighat Farm, Sagarika Emporium, Ghanta Ghar, Aberdeen Bazaar, etc are some famous tourist attractions. The tourists say that even if all these places are beautiful and amazing, but these places did not have the same feeling, compared to the places where Veer Savarkar had stayed in.
After the great success of Andaman trips, the people are now demanding for a trip to Bali. This trip is in its planning stage now. But since the main plan of this business was to take people to Andaman only, the Bali trip has some limitations and conditions.
Many places in India are famous for their cultural and historical heritage. Captain Nilesh believes that there is a tremendous potential for new tourist companies to grow and prosper their business at such unconventional places. Even if you start a business with a social purpose, you should always deal with it in a professional way. That is the key to a successful business.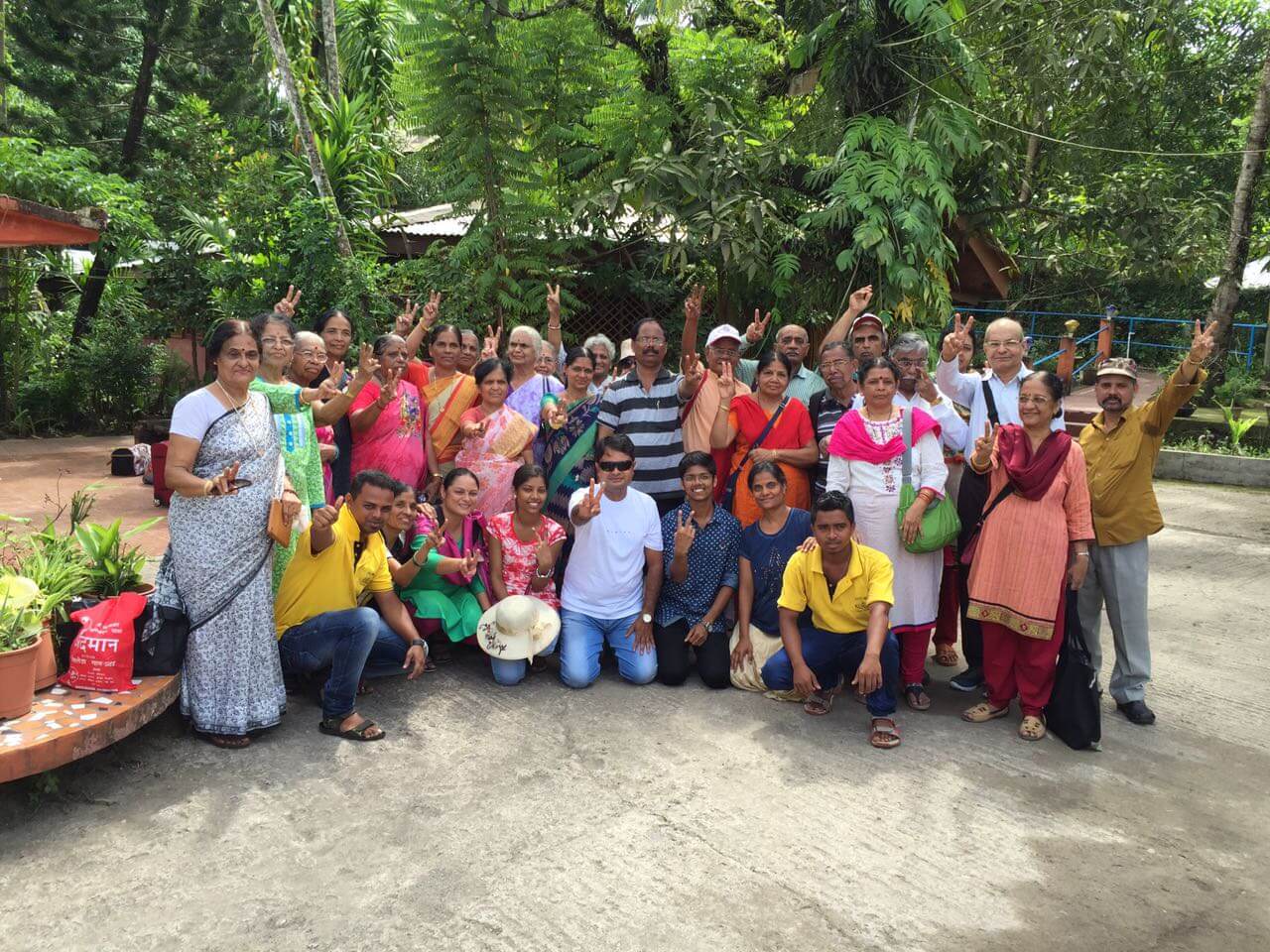 Originally Published in Yashashwi Udyojak. Subscribe Today.