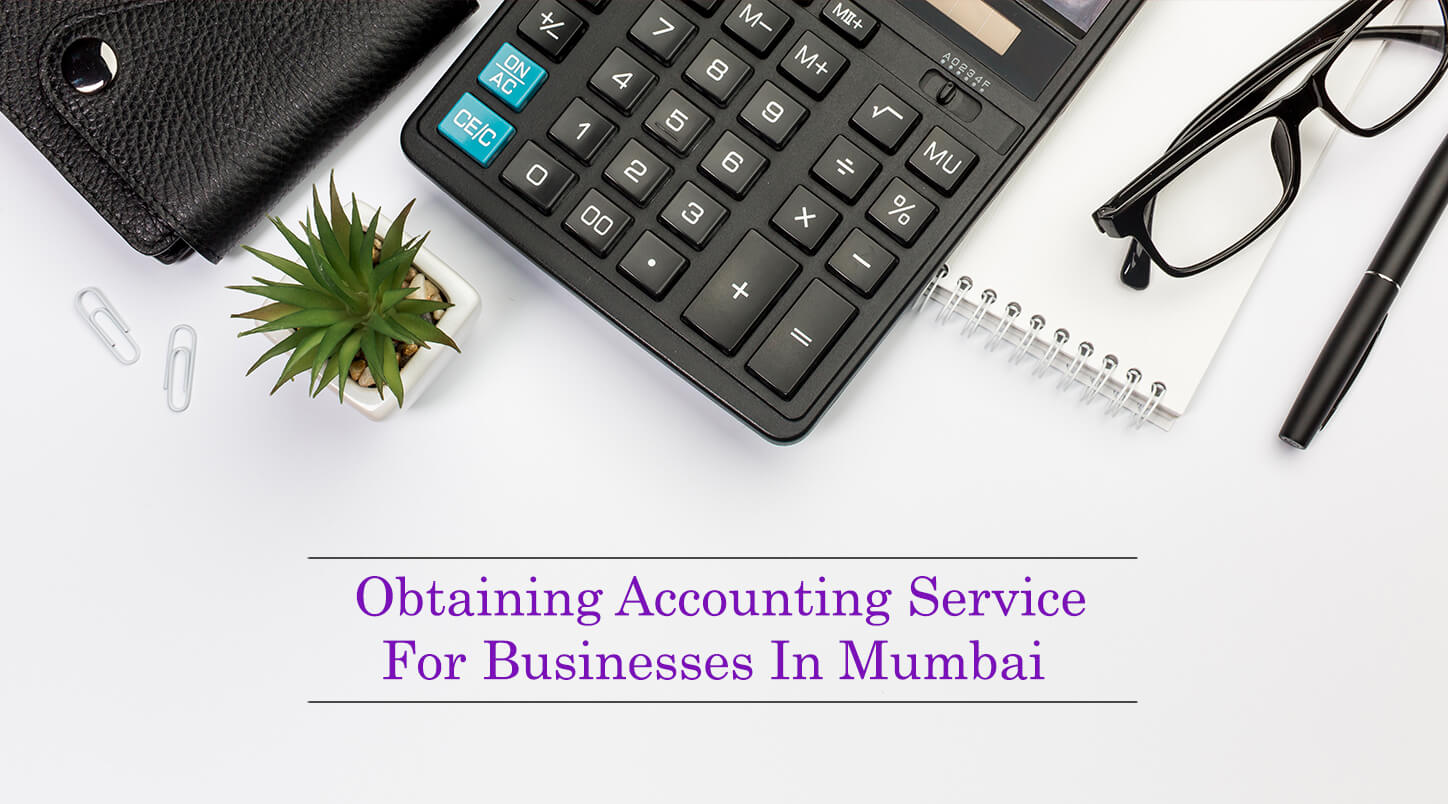 Obtaining Accounting Service For Businesses In Mumbai
A business has certain requirements that are common to all types of businesses, irrespective of the good or service they provide or the size of the business. Some of these requirements include incorporating the business, obtaining legal permits and registrations, obtaining loans or arranging funds and also keeping track of the accounts. In fact accounting and keeping records of the business accounts is a vital component of every business, situated in Mumbai or anywhere in the world. And in order to keep track of the accounts and have the books in order every business requires accounting services.   
What Are Accounting Services?
Accounting services involve recording, reporting, and analyzing financial transactions of a business or individual. It reveals business performance in terms of profit or loss for a given period, and the value and nature of a firm's assets, liabilities and owners' equity. Accounting services ensure that the financial records of the business organisation are well organised thus helping the business operate more efficiently.
When a business opts for Accounting Service in Mumbai, it means that the service will commit to provide the business with financial information in a timely and accurate manner. The accounting service includes number of vital services such as-
Booking keeping on a monthly, quarterly and annually basis

General ledger and financial statement preparation

Setting up the accounting system for a new business

Providing computerised payroll services

Preparation of business tax return such as for sales and use or for business property

Preparing personal financial statements
Along with these important services carried out, accounting services also include another accounting system, known as the double book-keeping accounting system.
What is Double Book-keeping?
The double-entry accounting system is where there are at least two accounts involved to record each financial transaction. These entries may occur in asset, liability, capital, expense, or revenue accounts. Recording of a debit amount to one account and an equal credit amount to one or more accounts results in total debit being equal to total credits for all accounts in the general ledger.
Importance Of Accounting Service
Accounting service is crucial and a must for all types of businesses. Accounting Services help the business owners get to know their business and its status profoundly and thus help improve the business as a whole. Accounting service is essential as it helps the business to
understand the inflow and outflow of funds

maintain the business record

prepare financial statements which are also useful for tax purpose
Some of the reasons why Accounting Service in Mumbai based businesses is vital are discussed below.
Financial Analysis

Financial analysis is the assessment of the viability, stability and profitability of a business. And for a business to be successful, financial analysis is vital and this analysis is provided by Accounting Services. 

Budgeting And Planning

Planning and thus allocating the necessary budget for the business are integral parts of every business. Businesses need to plan their machinery and equipment requirements, labour requirements, marketing requirements, etc. And for fulfilling these requirements the cash needed has to be budgeted and this is achieved via Accounting Services

Decision Making

Businesses need to make a number of critical decisions which shape the future of the business. Decisions such as pricing of the products (or services), materials and resources necessary for the production, finances needed for the production, policies that define the business, etc. And this vital decision making process needs Accounting Services to help make the business more efficient. Financial accounting helps the business owners know their current financial situation and hence improves decision making.

Business Performance

Accounting Services help throw light on the overall performance of the business. Financial reports are a reliable source of measuring the key performance indicators, so business owners can compare themselves against their past performance as well as against the competitors.

Liquidity

Accounting Services help to determine the liquidity of a business. Liquidity refers to the cash and other resources at disposal for the business to pay off any financial commitments. The information reduces the risk of bankruptcy thus highlighting the importance of Accounting Services.

Financial Position

Accounting Services helps generate financial statements which further reflect the financial condition of a business at that time. These statements give an insight into the financial position of the business.

Taxation Structure

The tax structure applicable for a business varies based on several factors. Accounting Services helps the business owners analyze as to which tax slab does the business fit into. 
Apart from these, Accounting Services is also beneficial for the business in the following ways-
It helps to identify projections & set targets for coming years

It helps the business get loans as the business's balance-sheets and profit and loss statements are readily available.

It Improves ability to scale up operations based on the entrepreneur's business development.

Types Of Accounting Services
Accounting Services are further divided in several types. Each type has a specific function which helps the business. The types of Accounting Services in Mumbai for business are elaborated below-
Financial accounting is an area of accounting that deals with the recording, classifying, reporting and interpreting of a business financial performance and economic conditions.
 Managerial Accounting includes preparing reports on a weekly, monthly, quarterly and yearly basis depending on the needs and desires of the business/firm.
  Cost Accounting is an area of accounting that captures and accumulates manufacturing or production costs for internal use of an entity's management.
Budgetary Accounting is an area of accounting that deals in setting up a tool or control device to help the management measure performance against its approved budget or plan.
Tax Accounting is an area of accounting that provides the preparation and filing of required tax returns of a business or organization imposed by local, state and central government.
 Accounting Service in Mumbai
Once businesses in the city understand the importance of Accounting Services, and why it is needed for their business, the next question is regarding how to obtain the Accounting Services in Mumbai. Businesses can either opt for in-house accountants but this is not a feasible option, especially for small businesses and start-ups. The next logical step is to opt for outsourcing the Accounting Service to experienced and expert accountants and firms such as deAsra Foundation. This is a suitable option as the business can concentrate on its operations and requirements while the Accounting Service takes care of the accounting needs, thus helping the business improve and grow.

Information To Be Recorded For Accounting
When a business considers to opt for Accounting Services in Mumbai or any part of the State, it is important to know the information to be maintained and recorded. Businesses are often unsure as to what needs to be recorded. Some of the information that needs to be recorded includes-
Sales

This includes cash sales, credit (unpaid sales), and list of debtors (i.e. unpaid customer's list) and sold goods returned.

Purchases

This includes cash purchases, credit purchases (i.e. unpaid purchases), list of creditors (i.e. unpaid suppliers), purchased goods returned.

Purchase of Assets (Capital Goods)

This includes cash, credit for e.g. furniture, equipment, vehicle, etc.

Receipts

This includes credit sales realized, advances received from the customers, capital/deposits brought in, revenue receipts such as interest, discount, commission, etc.

Payments

This includes payment for purchases, advances paid to suppliers, revenue expenses such as salary, rent, transport, interest, discount, etc.

List of Mode of Receipts and Payment

This includes cheque, cash, credit card, debit card, net banking, etc

Documents Needed By Accounting Services
When businesses in the city opt for Accounting Services in Mumbai, they are quite unsure of the documents needed for the purpose. The list of documents needed by Accounting Services is handy for such businesses.
Details of income & expenses occurred during the year (rent, electricity, wages, etc.)

Record and copy of the invoices

Receipt and payment vouchers 

Rough books of accounts (if maintained)

Debtors and creditors register (if maintained)

Bank account statements (for recording bank transactions)

Cash book (if maintained)

Value of inventories as on date

Periodical GST/ITR returns (if filed)

Details of assets acquired during the current financial year (if any)

Businesses That Need Accounting Services
Several start-ups and small businesses consider Accounting Services to be for big businesses. They do not consider accounting as a part of the business operations that needs assistance. And often it is these start-ups and small businesses that end up having financial statements with several errors and discrepancies. So one of the first type of businesses that need Accounting Service in Mumbai are start-ups and small businesses. The lack of knowledge or staff might lead to small businesses having incomplete financial statements or being unable to keep track of and maintain their accounts. For such businesses, services such as those provided by deAsra can always help maintain immaculate financial records and reap the several benefits of the accounting system.


Typically, accounting services are needed by all types of businesses. But more specifically the following businesses or situations require timely accounting services at the earliest.
Businesses with employees

Businesses that require financial statements

Businesses that require oversight

Non profits business

Businesses that are public companies

Businesses that have income in cash

Organisations doing business overseas 
This detailed information about Accounting Services, their importance and benefits, their types and categories, their requirements (in terms of information and documents) helps businesses gain better understanding about Accounting Services. For further queries or assistance with their accounting needs, they can always approach the team at deAsra.