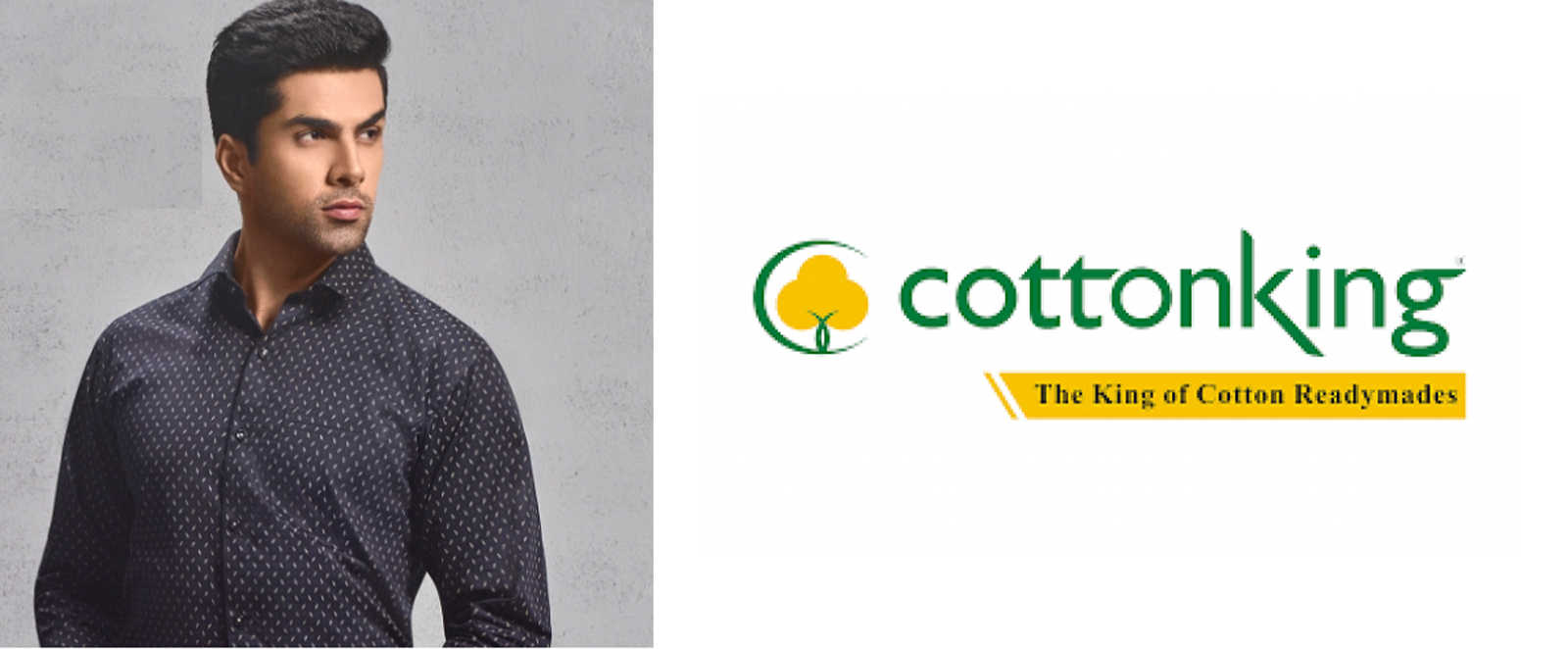 Cottonking
The textile industry is considered very important all over the world. One readymade piece of clothing undergoes 40 different processes before we wear it. Many of these processes can become independent industries. Today I am going to talk about these industrial opportunities. Before that, let me elaborate on my industrial record. 
I resigned as General Manager from an esteemed organization like Kirloskar group of companies in my forties. For many years I had been mulling over the possibility of launching my own enterprise. But I was yet to choose the business. I had two options. First and the easiest way to start a dealership of compressors which I used to sell while in Kirloskar. Or start its manufacturing unit. Since I knew all the intricacies of the business, there was less scope of any goof ups. 
The second option was, however, completely new and unknown. That was to start a business of readymade cotton clothing. I am passionate about cotton clothes. At that time, there were very few stores selling 100% cotton shirts. The variety of colours and designs was minimal. I used to hunt such places where I could buy cotton shirts whenever I could find time during my business trips to various locations. Once I visited a shop behind the Taj Mahal hotel in Mumbai. I was surprised to see the variety of cotton clothes showcased over there. It was then, and there the idea hit me. My passion for cotton made me go on these tedious hunts. But that's impossible for everyone. Why not make this a business? And then I resolved to launch my cotton clothing business. Necessity is the mother invention. The need for cotton led to the birth of my business.  
I had two options. Either to buy readymade shirts wholesale from vendors and sell them or to go for self-manufacturing and sales. The first option was comparatively easier for me since I had no business background. Of course, I chose the first. Thus in 1996, the first shop of Cottonking started at Nal Stop, Pune for 100% cotton shirts for men. Cottonking catalogued all the ranges of all the brands. It received a very warm response from customers from the beginning. I was happy. But I realized that despite showcasing the merchandise from various companies, we somehow fell short of customer expectations. Many times, a customer was disappointed for not getting the clothing of his favourite colour or style. This made me think of becoming a manufacturer. 
Once again, there were two options. I could sell shirts under my brand name after acquiring them from small entrepreneurs, or I could self manufacture them. This time I went for the second option. For this, I started my research. I learnt many things like what is the size of merchandise a manufacturing company produces, what are the varieties of colours and measurements of these goods, what are their prices, what is the transaction process, which designs are popular in customers, which size of clothing is in greater demand, what is the profit margin, what is the demand and supply ratio, and which are seasons of slowdown and boom etc. It is very important to know these facts for those who wish to manufacture clothes. I began manufacturing cotton clothing in 1998. Initially, I started in a very small place. But in a very short time, I bought a land in Baramati measuring 85000 sq ft and started manufacturing. 
It was a marathon time for us for various things like obtaining a bulk of cloth, styling (shirts, trousers and t-shirts), determining sizes, bringing in a variety of colours and establishing the Cotton King brand went on hand in hand at the same time. As a consequence, we became the talk of the town, not just in Pune but also in other cities. I would reiterate here, that branding needs as much attention as manufacturing your product. 
By and by, Cottonking strengthened its base. Now we were focusing on expansion by way of various franchises. It is challenging to expand your business by merely increasing your staff. Because there is a limit to instilling passion about your business in the team. An entrepreneur's sense of intimacy and concern for his business can never be found in the same measure in their staff. Therefore we thought of profit sharing and associating with other entrepreneurs. For this, we created a win-win situation for the entrepreneurs willing to collaborate with us. We had to take into account all the concerns while creating the franchise model like the collaborators interested in franchises should feel that it is an esteemed venture, they should not be burdened with the loss of unsold merchandise. 
Our main principle in the franchise model was to create a win-win situation for both parties in any deal, whether big or small.  The franchise owner doesn't have to deposit any amount with Cottonking for the agreement. Hence his capital is free. This is a great relief to them. They only have to raise the investment required to set up their own shop. They have to buy merchandise from us in full cash. If this is considered investment, then they start getting returns immediately through the sale. While in urban areas investment goes up to 20 Lakh, in rural areas it goes up to 15 Lakh. This includes shop rent, furniture and purchase cost etc. 
For initial capital recovery, annual sales in rural areas need to reach a minimum of 60 lakh and in urban areas a minimum of 1 crore. These numbers are intimidating for some franchise owners, but they are relieved by the principle in the Cottonking model. What is that principle? It is that the responsibility of the business is borne by Cottonking where the sales are less than 60 lakh, any profit above 60 lakh is completely paid to the franchisee. Thus Cotton King has removed the significant initial risk in the franchise business. This has effected such a positive result that any franchisee makes sure to cross the 60 lakh limit of their business. It is a remarkable fact that Cottonking has never had to compensate losses to any of the franchise till date. Thus Cottonking relieves the franchise owners in a considerable measure. It unconditionally accepts unsold goods from the franchise.  Opening a franchise of a specific brand is a comparatively straightforward way in this business. 
There are so many outstanding opportunities in the textile industry just as opening a specific brand franchise. Owning a retailer ship of any cloth manufacturing company is an undying and profit-making business. Apparels are not seen as basic needs like food, clothing and shelter. Fashion has led to significant turnover in the textile market. In the old times, clothes were only purchased in festivals or ceremonies. Now the times have changed completely. One doesn't need an excuse to buy clothes.  Any number of clothing shops are insufficient in current times. That is why there is a lot of competition. One needs to be skilful in sales transaction to be in the race. Customers feel happy when they are shown clothes of different colours and fashion, suiting their standards, tastes, figures and budget. If these details in the art of sales transaction are taken care of, then the retail business of clothes proves to be profitable. 
The transport of merchandise from factories to the wholesalers and then to the retailers is a complementary business in the textile industry just as in any other industry. But one has to take care of the goods in transit and deliver them promptly to their destinations. With this, there are many opportunities in logistics. There are so many hidden opportunities for complementary businesses in the exclusive clothing line industry. Fabric is bought in great bulk for a readymade clothing business. Some of it needs to be washed before sewing. It requires special processing with certain detergents. It is washed in huge washing machines for a specified time. A close study of this process can lead to an independent fabric washing business. 
Similarly, customized cutting of the cloth (as per shirts/ pants/ t-shirts/ Punjabi dresses/ frocks/ gowns etc.) can be an independent business. For instance, Cotton King, by their experience, knows that 600 shirts can be made out of a 1000 m cloth. If somebody studies this requirement to cut so and so shirts, it is of great help. But this is not just simple sewing. This work needs close study and understanding. One has to understand the size and fashion of the shirt before cutting and sewing. Quality has to be given prime importance at every step of the work. A business of supplying various items necessary in fashion such as threads of different colours and quality, buttons, chains, price tags, labels, collars and canvas material used in cuffs etc. can also be started. It is possible to work in the business of supplying packing material for readymade clothes. Similarly, alteration work is needed in some shops of readymade clothes which also provide employment opportunities. 
Fashion designing nowadays has become an esteemed profession in the textile industry. Most of the time, before settling in the masses, these fashion trends manifest themselves in daily soaps on TV or cinemas. This business has tremendous scope in women's and kids' wear more than in men's wear. Any person with imagination has an incredible opportunity in this field. 
Embroidery on readymade clothes is a big industry. In men's wear embroidery is found on shirt collars or pockets. Especially, uniforms need company or school emblems. This work is found in a great deal when it comes to kids' and women's apparel/ sarees. Textile painting is also a big business. Also, there are so many businesses like joining lace to the sarees and odhnis, creating different types of borders, gondas, motis, bindis, latkans, fall and picos for sarees etc. Weaving nine yards sarees, and designing clothes from sarees can also be done. Manufacturing subordinary clothes such as handkerchiefs, socks, ties, stoles etc. is also a business. 
Final processing of finished clothing is also a business. This includes checking for stains on ready for packing clothes, checking for loose ends, buttons etc. if required; these things need to be addressed. Washing as per the requirement of the fabric and then sending the clothes for packing etc. all these things need to be done although even afterwards quality control checks are taken by the manufacturers. 
Automation has entered this business as well. This includes various jobs such as developing new technology for easy, quick and quality processing in the textile business, manufacturing tools and machinery, and regular maintenance and repairing of the working machinery etc. One must understand that any of the above options need a spirit of dedication. One needs to have complete knowledge of their business. Customer's needs should be taken into account. Otherwise, they are disappointed, and you may lose work. You need to face difficult customers. No business is successful if you sit in your cabin like a boss and let things take care of themselves. 
There is a big business opportunity in the marketing and advertising of this industry. One needs to find a fine balance between imagination and technology while doing so. 
Another remarkable feature of this industry is that it is not restricted to only a few cities. It can also be run in villages. But one needs to check their target customer and ensure if they can reach them in time with the supply of quality goods. 
The choice of business and its size is dependent on many things like our own liking, skill, the willingness to go for training, the possibility of investment, availability of land etc. but if one is prepared with all these then be sure to find so many different threads of businesses interwoven with the textile industry. 
Originally Published in Yashashwi Udyojak. Subscribe Today.